1. Bridal Blouse Neck/Front Designs
There are literally innumerable neckline/front blouse designs now a days. We have listed 10 unique designs from our gallery.
Choli Cut Blouse
  Image via Pinterest
This design literally screams charisma! Choli cut is often paired up with heavily studded or embroidered blouses and we think it looks perfect!
Plunging neck blouse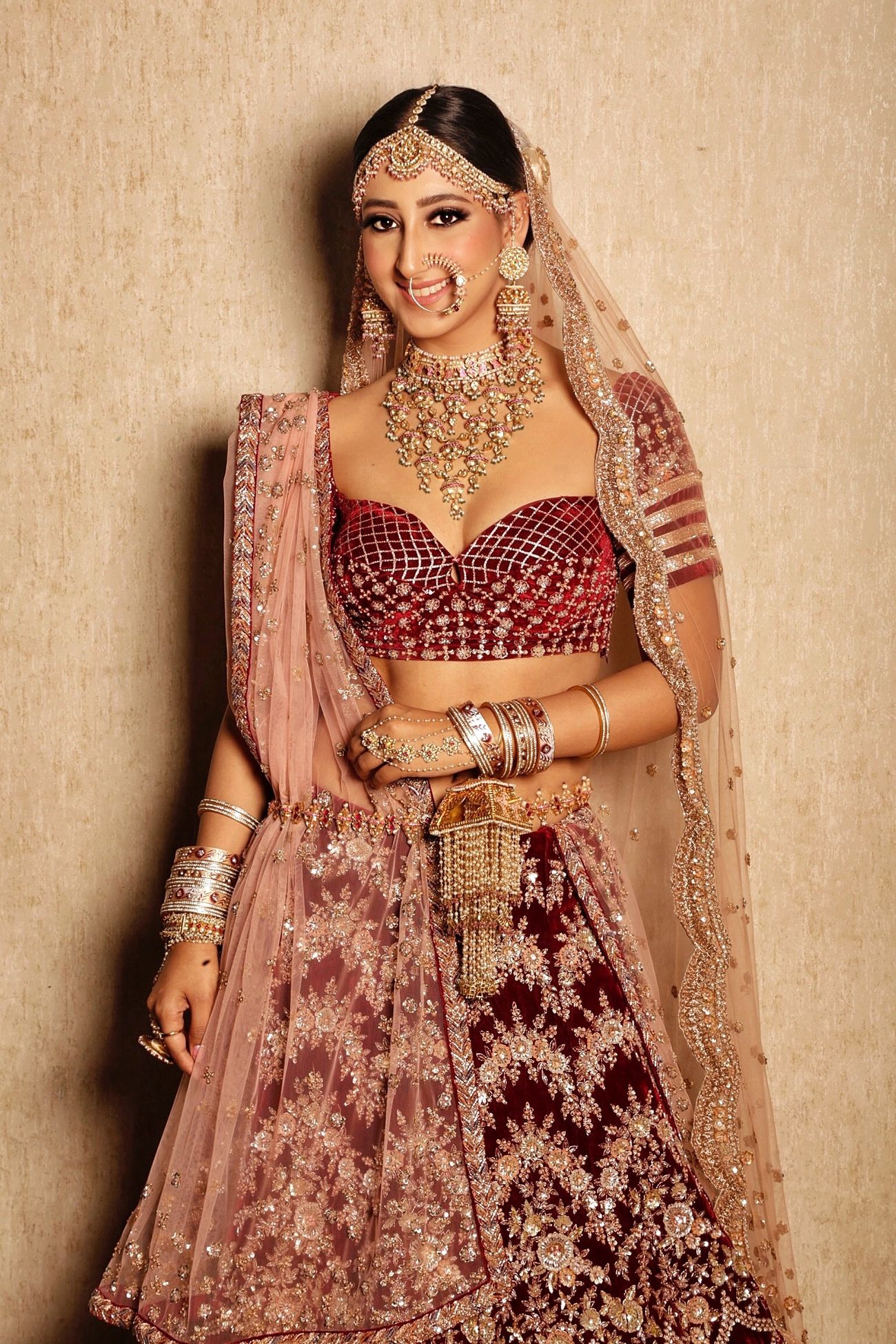 Image via Neha Adhvik Mahajan
Not everyone is comfortable in a plunging neckline, but if you don't have any issue with it, then this definitely one of the options for you! A blouse design with a revealing neck looks ravishing.
Deep neck blouses with off shoulder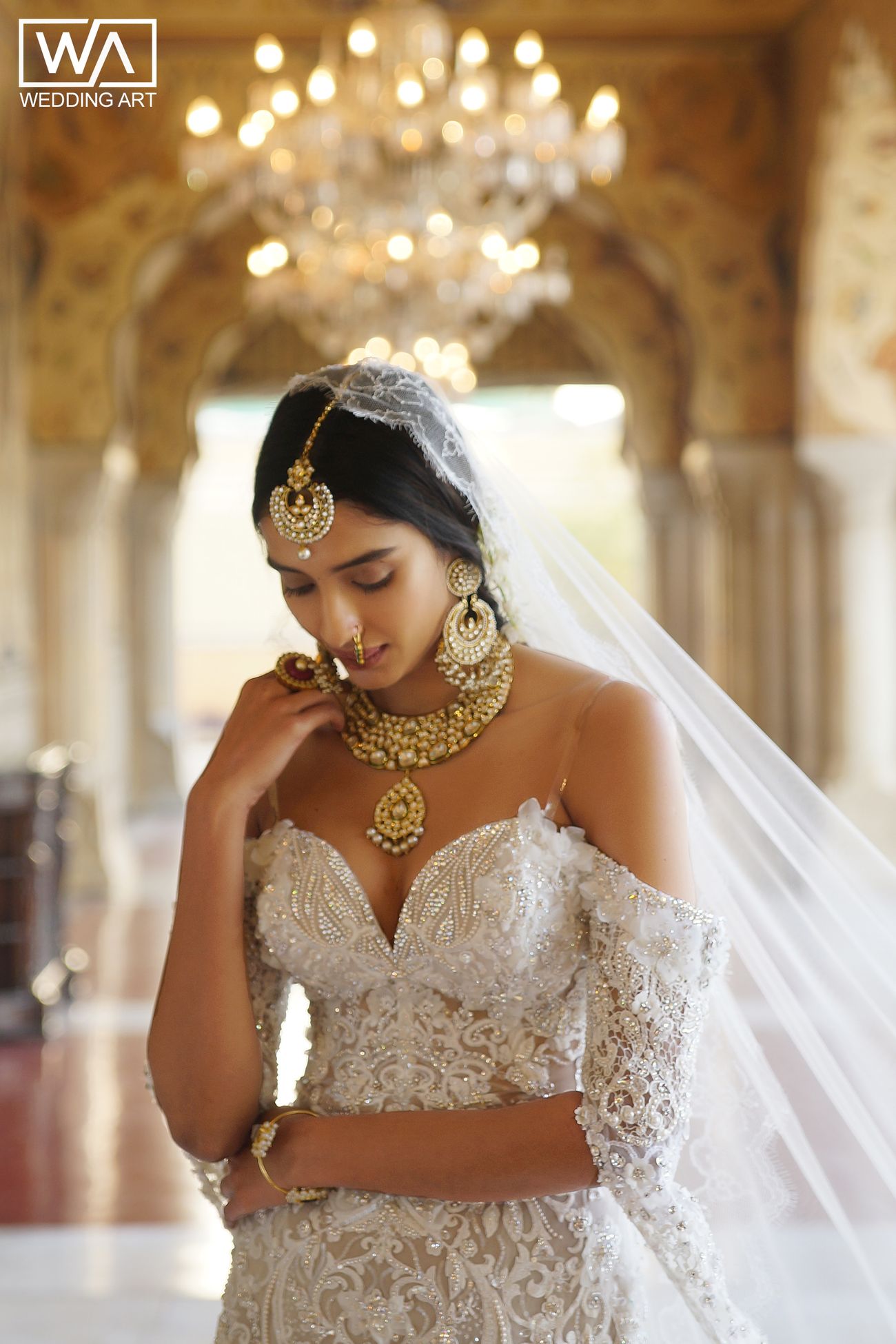 Image via Wedding Art★ 4.8
Now this blouse design has a plunging neck line alright but what we like is that the sleeves are also off shoulder and 3/4th which makes the whole look very unique.
Strapless simple blouse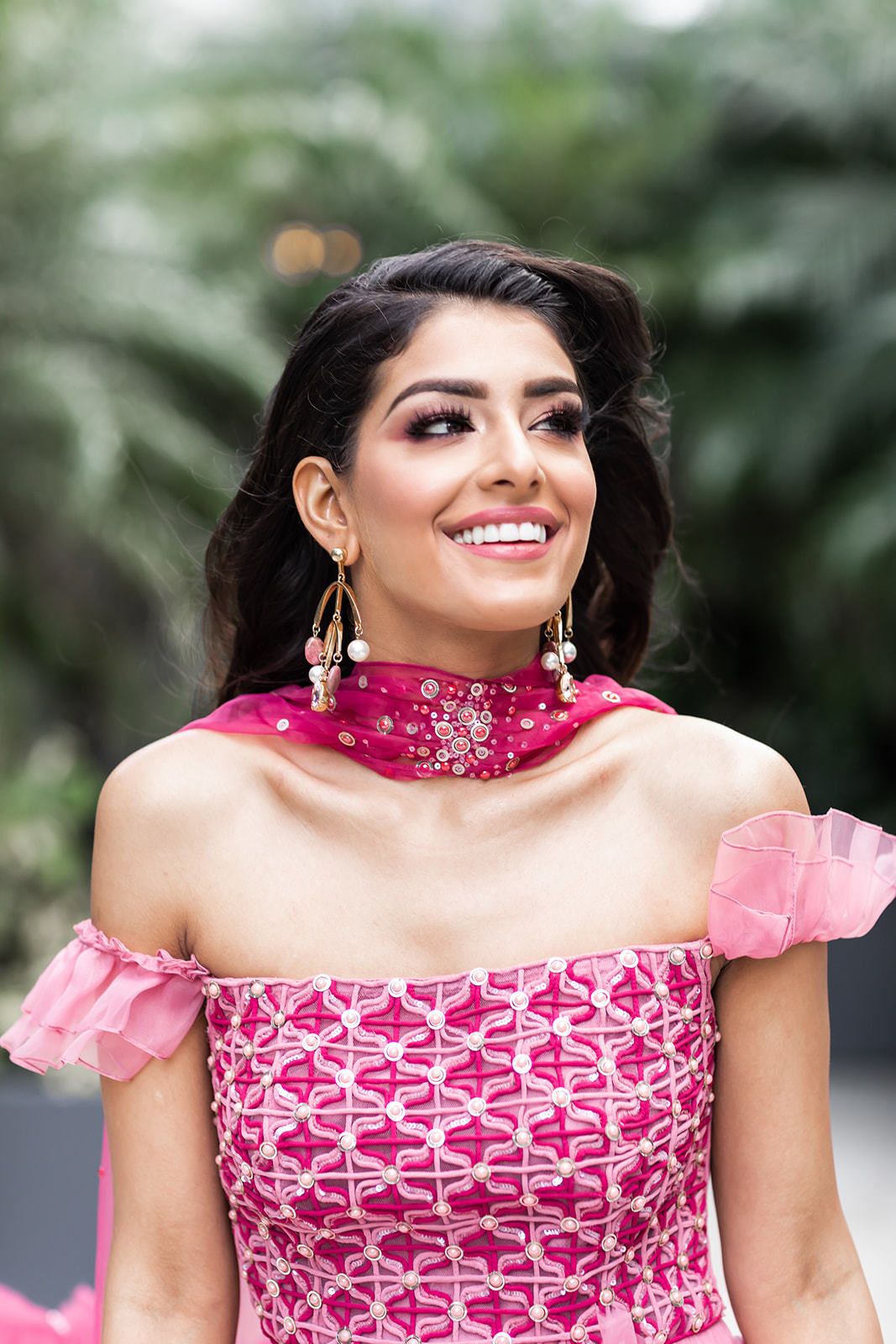 Image via Blink & Co Photography★ 5
A simple blouse design that is strapless and embroidered plus studded with peals. The minimal net off shoulder sleeves look really cute!
Mermaid neck with off-shoulder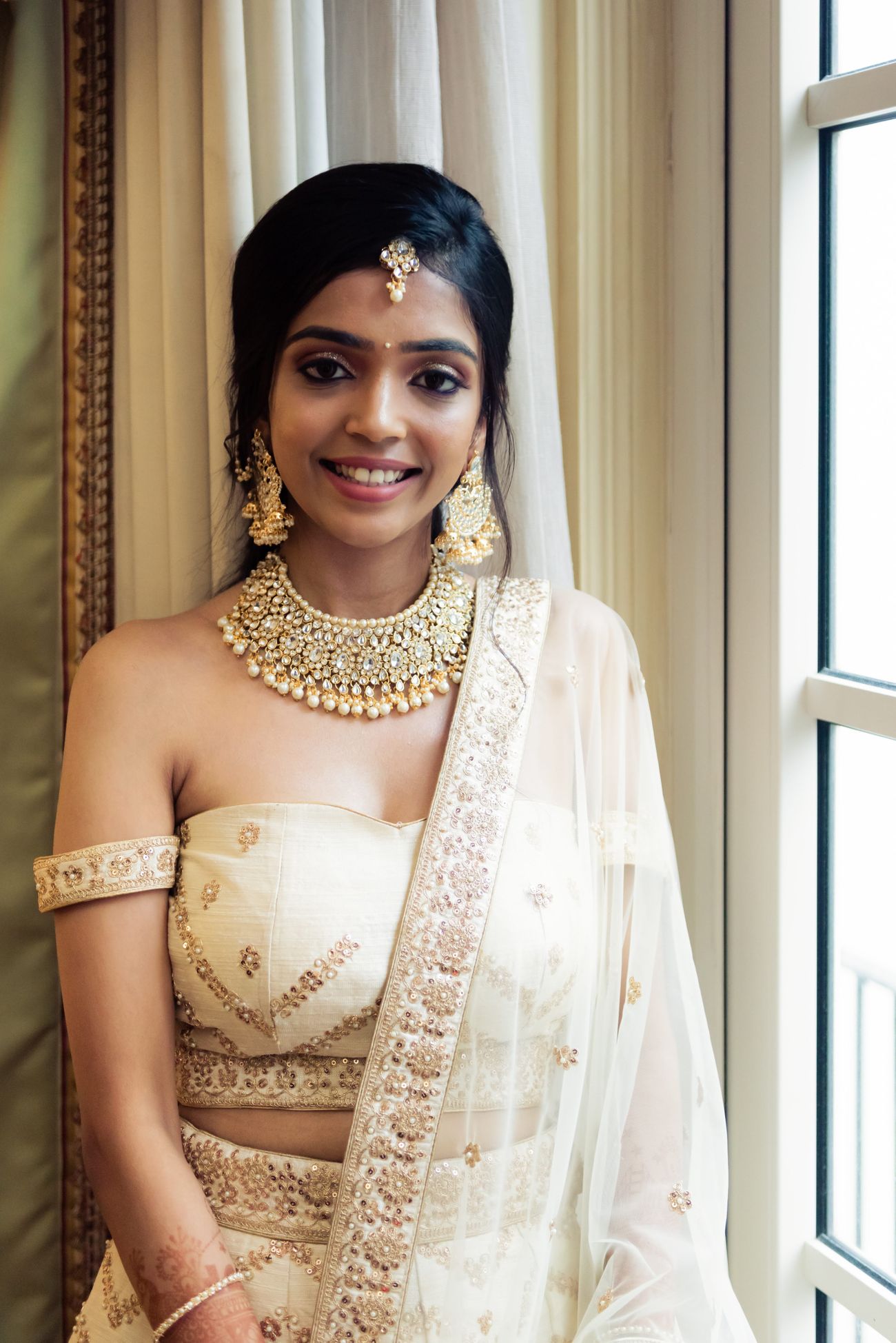 Image via Shutter Diaries ★ 4.9
This design has a curvy-cut neck and an off shoulder thick strap with gives this a very princess-like look. (Yes, we meant Jasmine!) Make sure to wear jewellery that covers your neck appropriately (according to your comfort level) so that you don't end up revealing too much skin.
Blouses with Tassels
Image via The Knotty Story★ 4.9
You probably must have seen this design before in suits but this is now a trend in lehenga blouses too! Metal or plastic Tassels that are placed very close to each other gives a very put together and fancy look.
Boat-Neck bridal blouse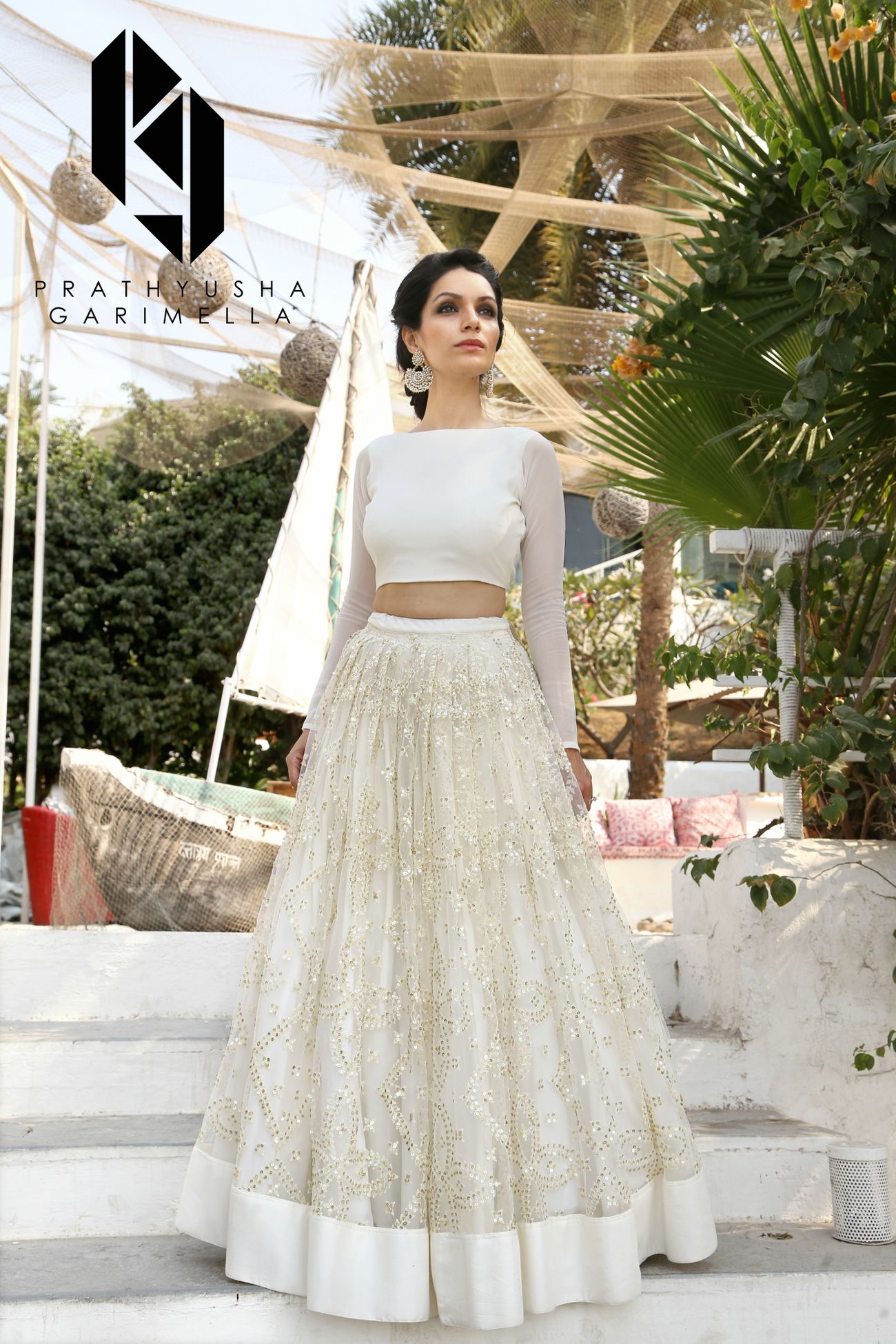 Image via Prathyusha Garimella★ 5
Boat necks are one of our favorites! If you want to keep it simple but stylish, then a boat neck design is the perfect pick for you!
One shoulder with sequins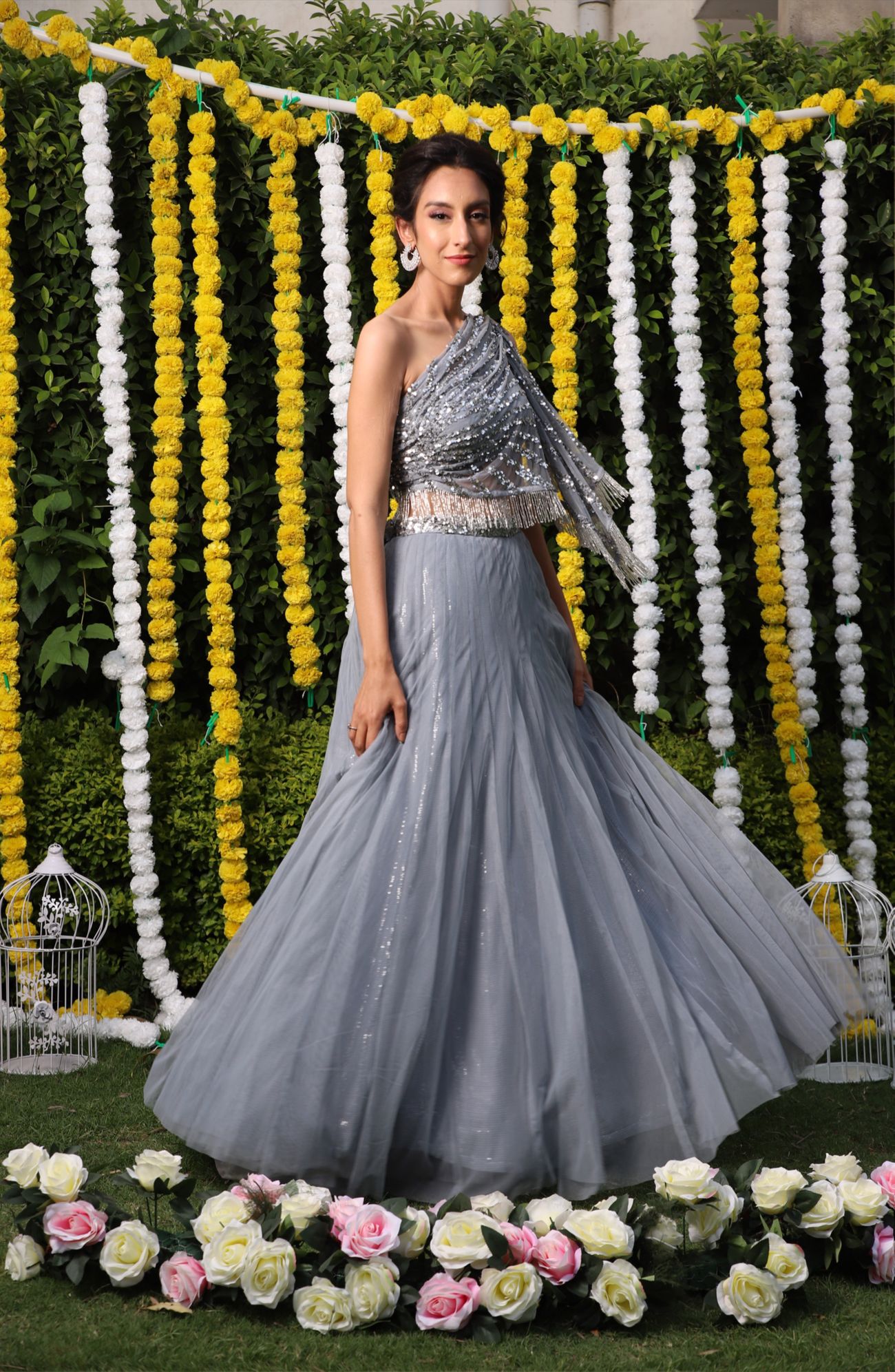 Image via Kashika Kapur★ 4.9
One shoulder dresses are LOVE! And you can try this on your lehenga blouse too. A little bit of sparkle and one shoulder design and then lady, you shine!
Heavily Studded blouse with full sleeves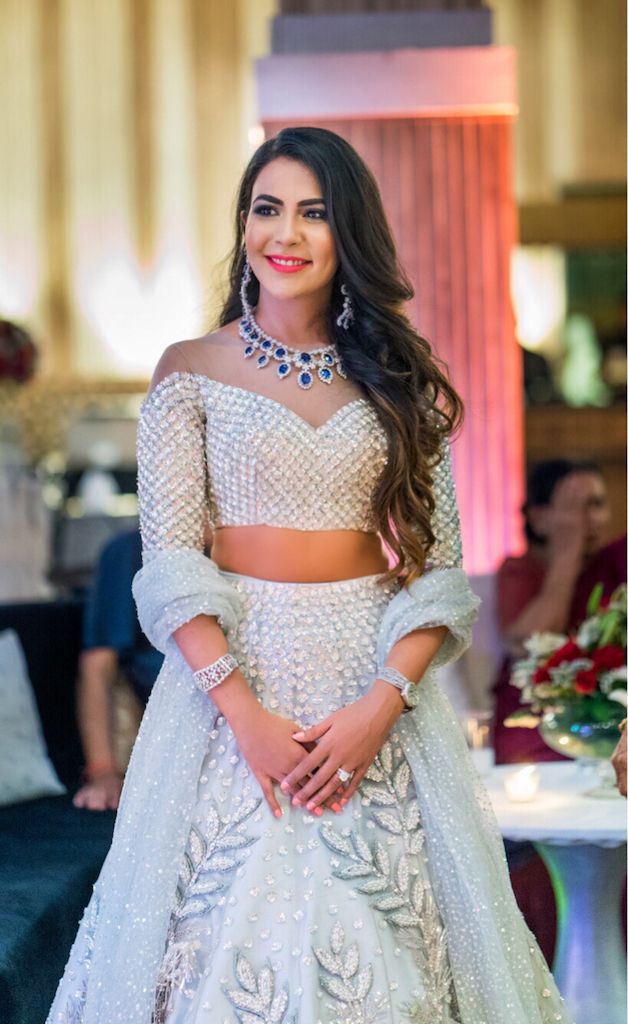 Image via Badal Raja Company
An off shoulder heavily studded blouse with full or 3/4 sleeves looks unique and royal and is surely worth a try. If you're planning to use golds or silvers in your lehenga, you might as well add this unique blouse design to your bridal outfit.
V Shaped hem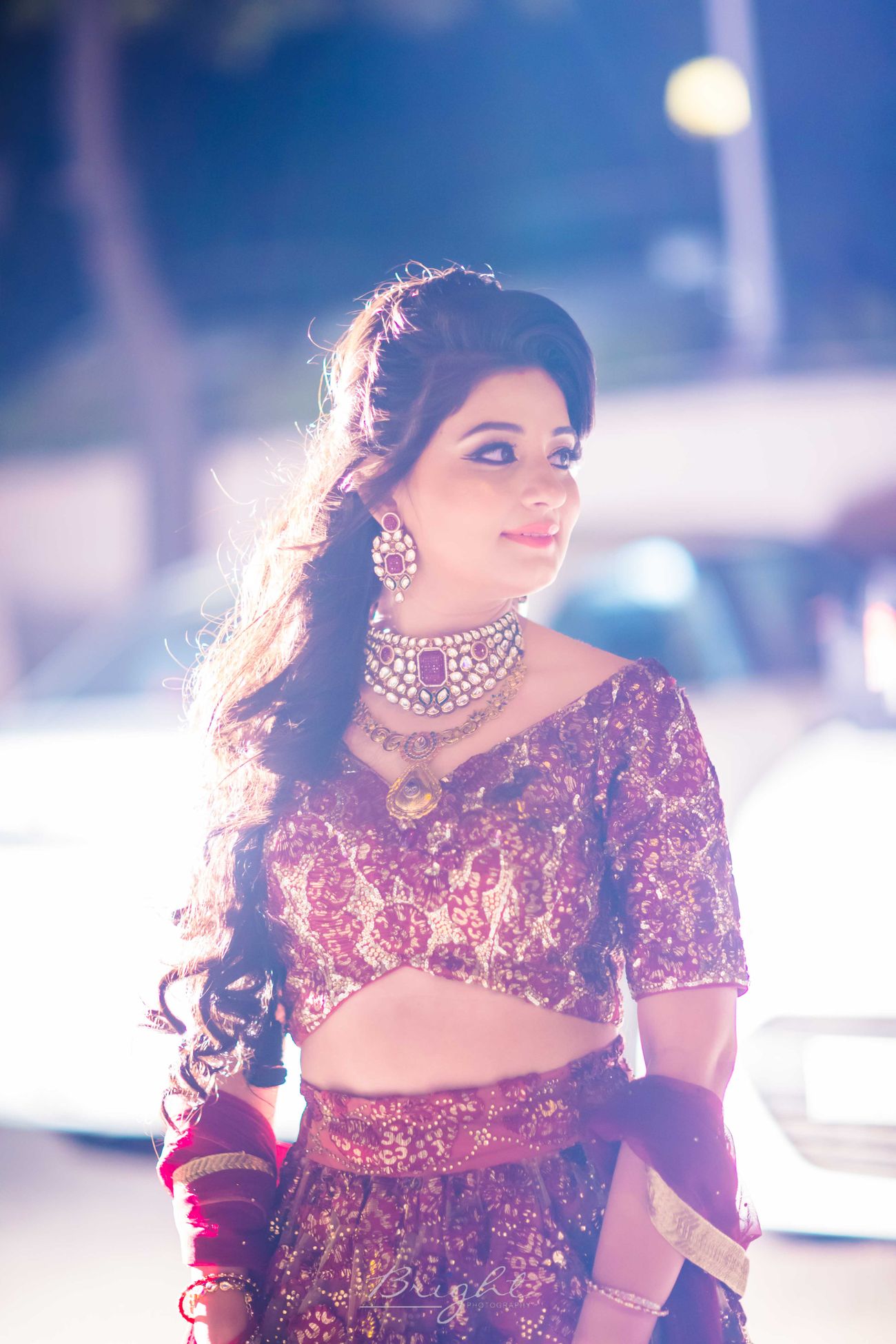 Image via Bright Photographers★ 4.9
This inverted V design on the hem of the blouse of the bride caught our attention. We love how the bride has kept the rest of the design simple and yet it looks so stunning.
2. Bridal Blouse Back Designs
The back of the blouse is also something to be taken care of. OR, you can totally make it your style statement! We have found some amazing blouse back designs that we are sharing:
Doli Embroidery!
Image via Shades Photography★ 4.5
Drop.Dead.Gorgeous. Period.
This grand design has the whole bridal entry on doli embroidered in it and we just can't get over this lately! The Jhumkis and pearl detailing looks captivating and make us go "Dayum, girl!".
Bride and Groom design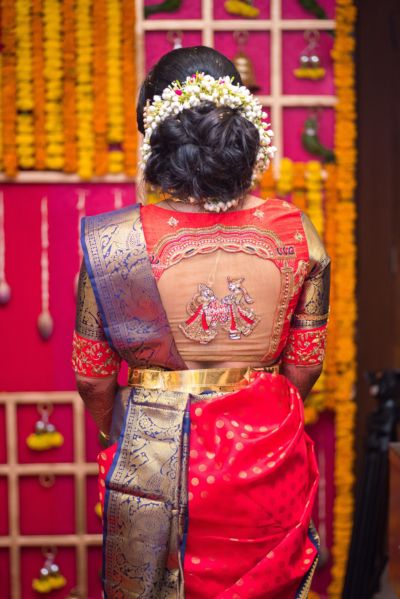 Image via Make-up by Afsha Rangila★ 5
An embroidery or fabric depicting a bride and groom would give an edge to a simple blouse. You can keep the back mesh for added gorgeousness and latest trends!
Criss-cross back
 Image via Gunjan Dipak Makeovers★ 5
This bridal blouse design is very apt to carry with a saree. The criss-cross with the back less looks stylish and fun.
Sunset Design
Image via Roma Ganesh Photography★ 5
This Sunset cut design looks stunning especially with Kanjivaram sarees. This bridal blouse design with golds adds an ethereal touch to it and looks splendid!
Buttoned Up simple blouse design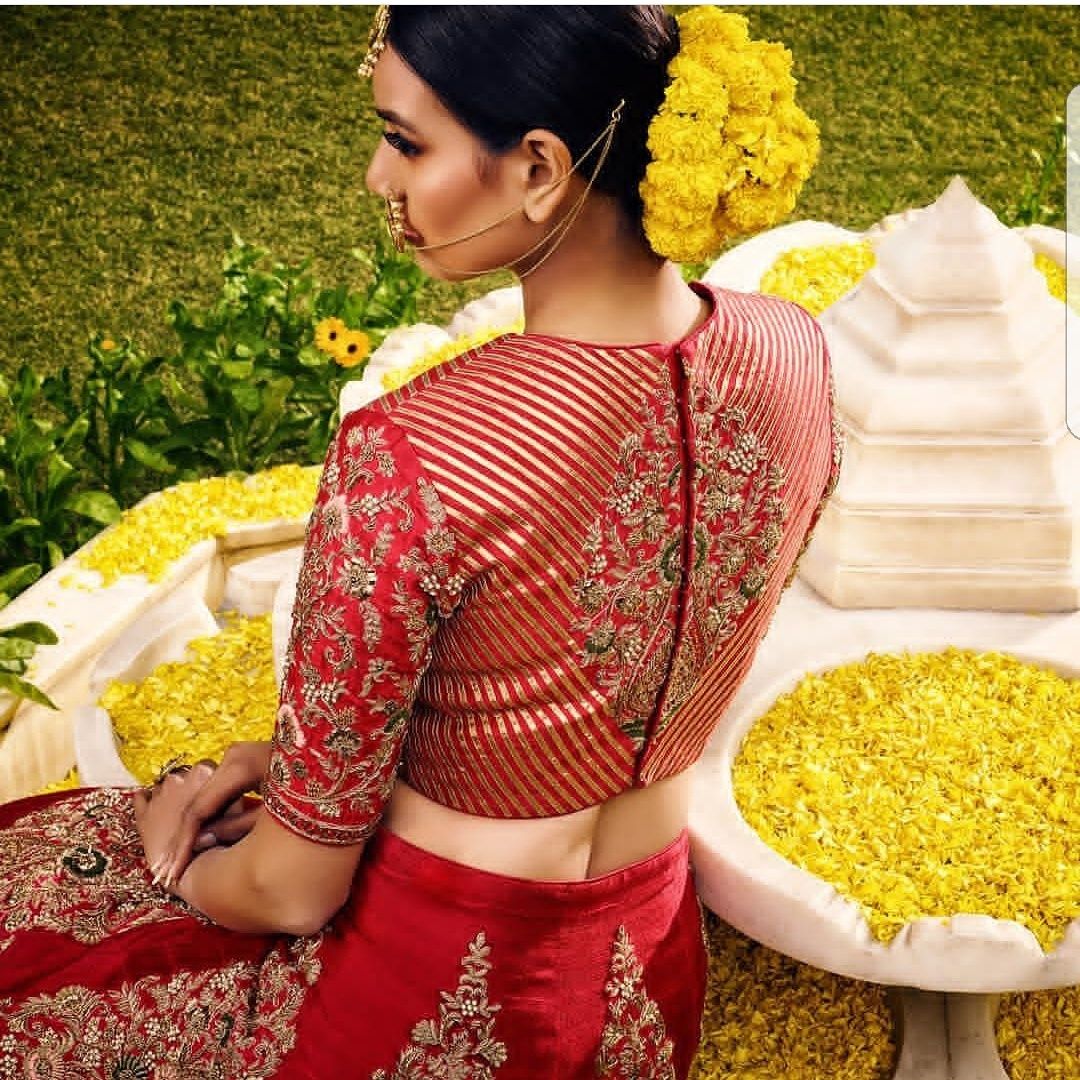 Image via Mehak Arora ★ 5
A very simple but elegant bridal blouse is buttoned up back till the top. The whole back is covered and the fabric is intricately embroidered to perfection.
 Back-less blouse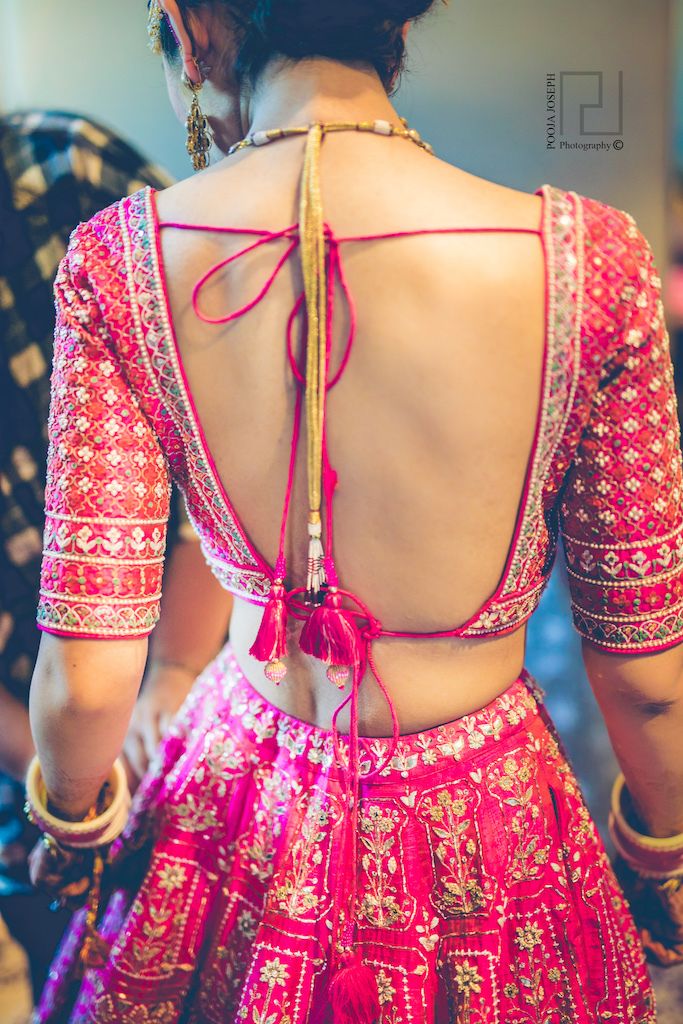 Image via Pinterest
Back less blouses are ever sexy, ever stunning! Adding doris and latkans doubles the dazzle!
Fabric Tassels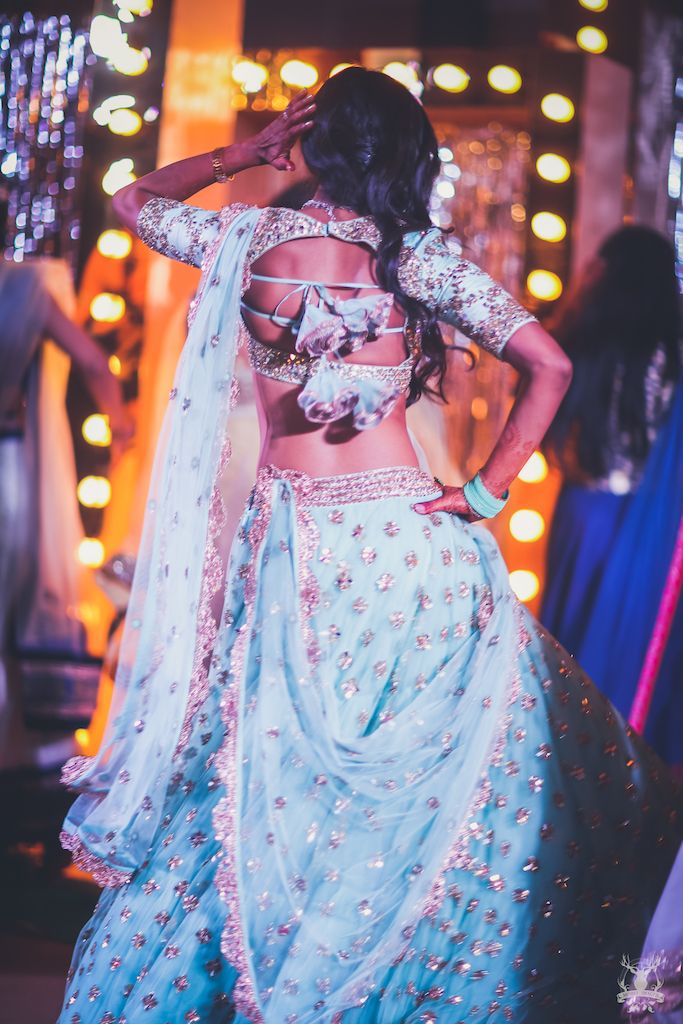 Image via Pinterest
If you want a quirky and fun look with your blouse, then opt for this latest design. This blouse is not exactly back less and there are really cute big fabric tassels which gives it a very adorable look!
Mesh bow and strap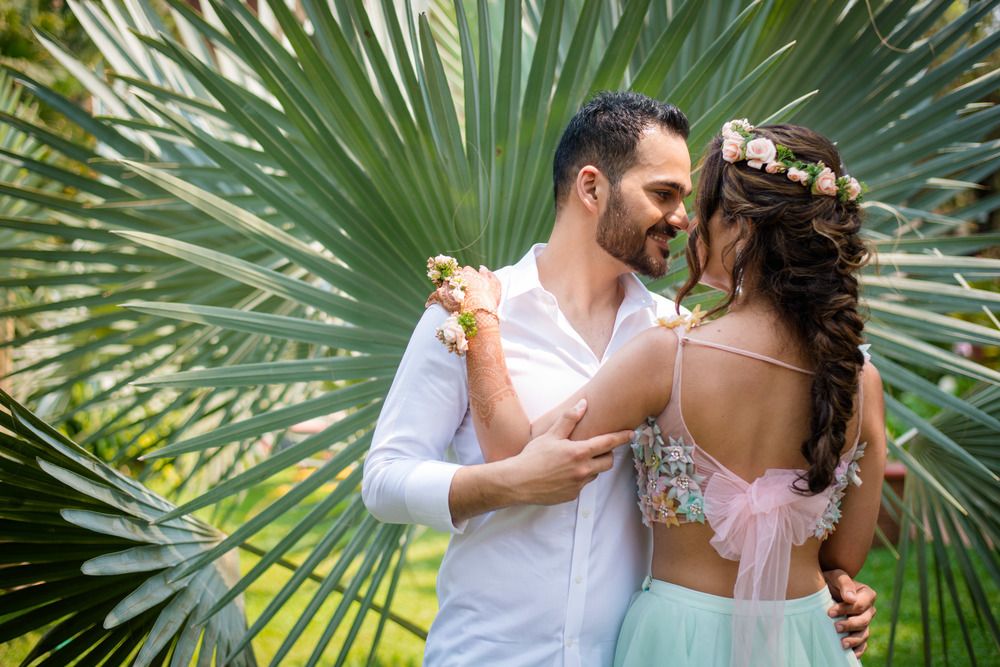 Image via Pinterest
How pretty is this! These mesh straps made us go "aww"! The cute little net fabric bow adds extra charm.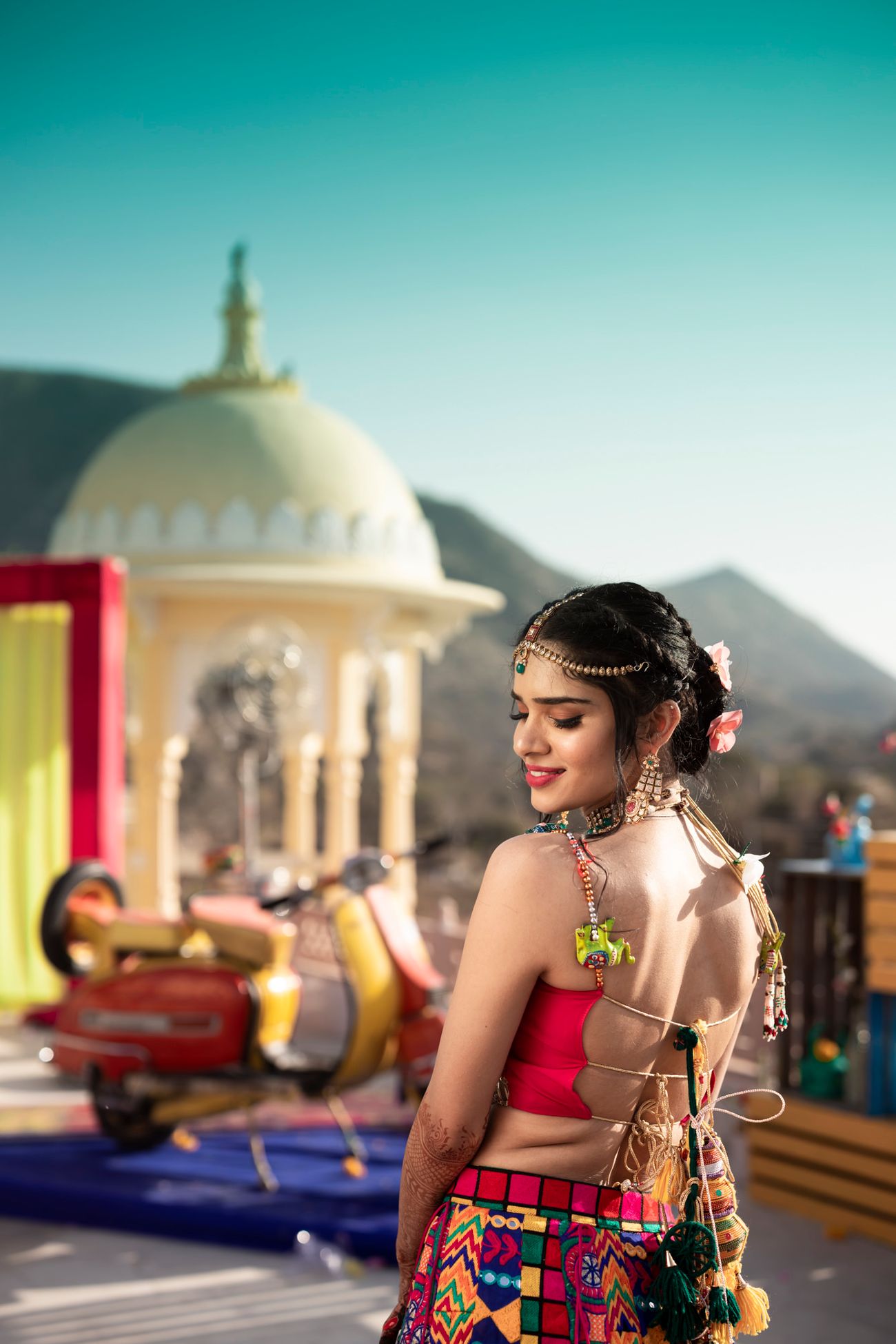 Image via Ankit Singh★ 5
This bride has left no stone unturned to get us amazed! The straps of this bride's blouse had cute bird caricatures and the latkans have various cute things from matkas to dream-catchers.
 Key-hole back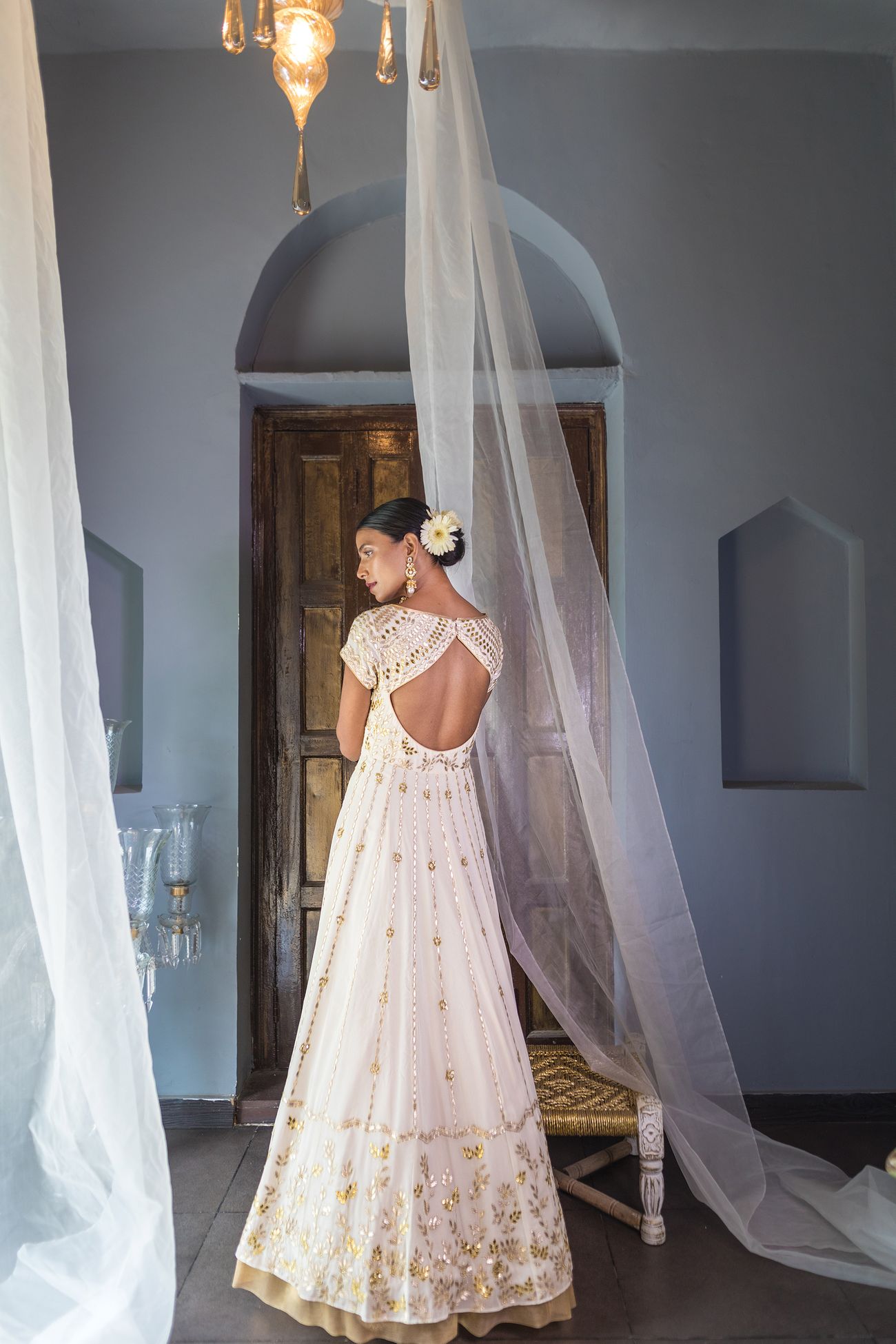 Image via Devnaagri★ 5
We love this not so latest design a lot! It's simple, and yet leaves a wonderful mark if worn with lehengas or even sarees. This look would be great for sangeet ceremony.
3. Bridal blouse Sleeve designs
Sometimes, if enough thought is put in the making of the sleeves of the blouse, it can turn over the whole story! This wedding season, you can choose to stand out with the sleeve of your blouse!
Mirror Work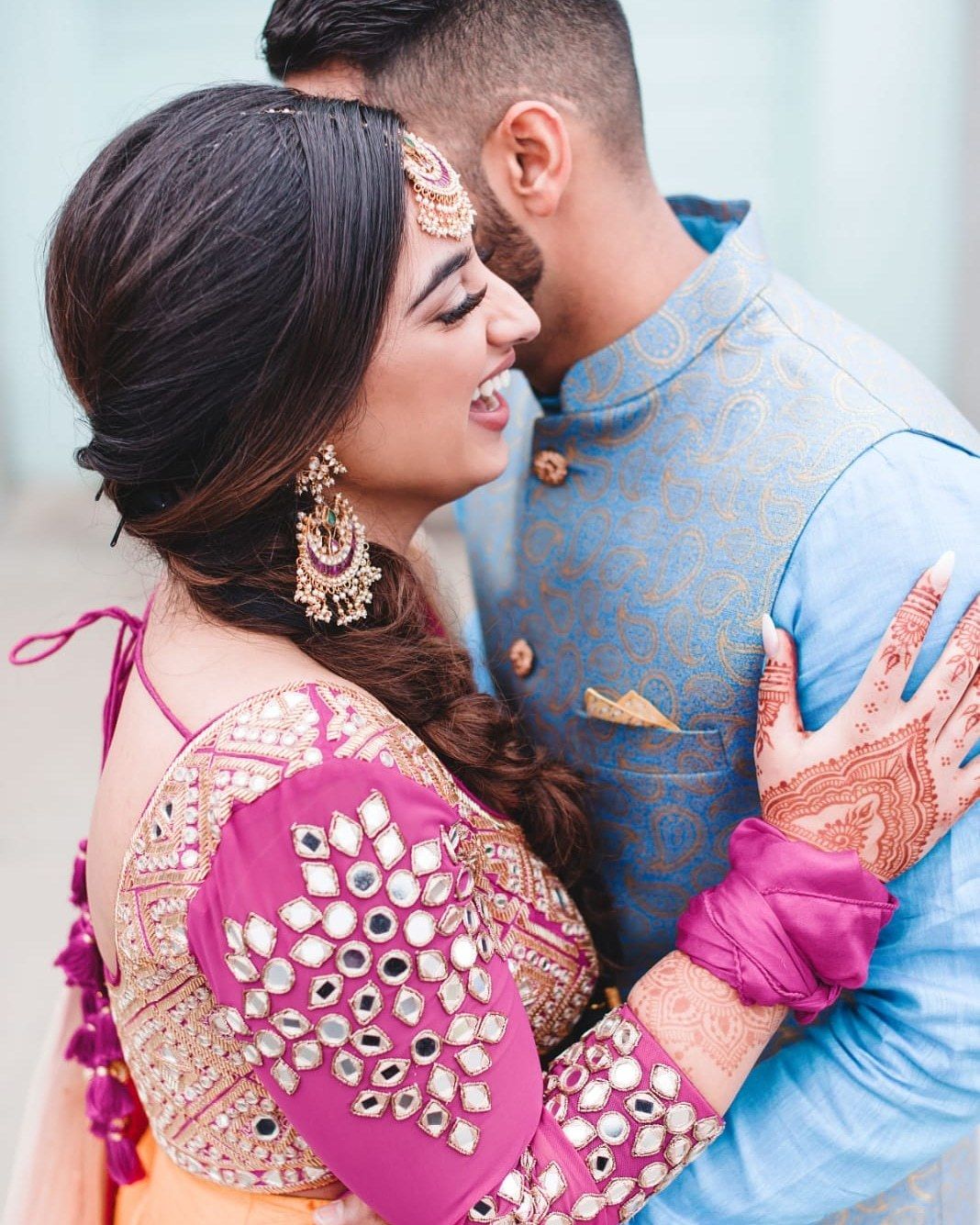 Image via Riana Jewellery★ 4.6
Mirrors work like catalysts! They make the fabric look a hundred times more beautiful! Mirror work on the sleeves is a win-win!
Puffy layered Sleeves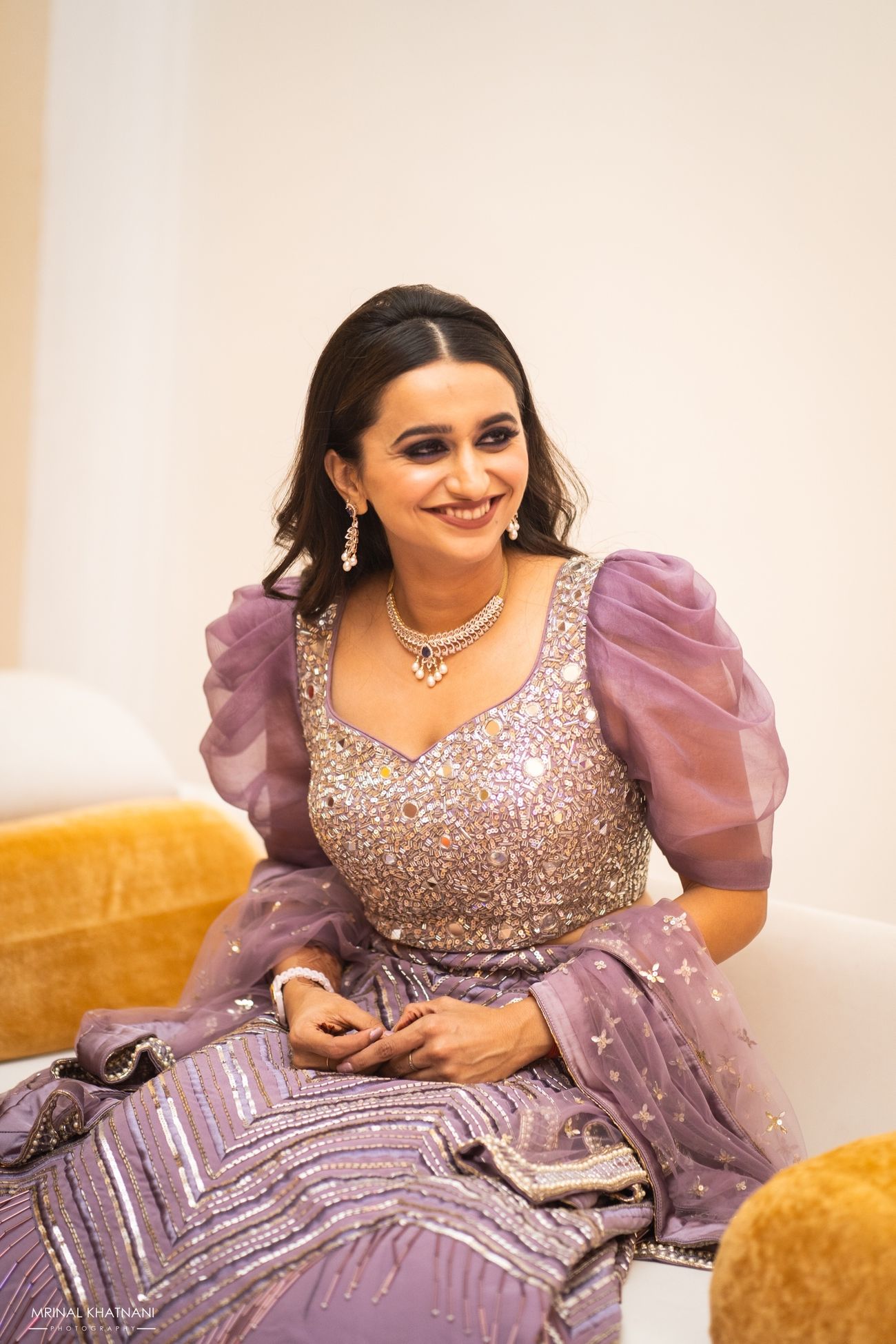 Image via Mrinal Khatnani Photos and Films★ 5
Yes! Puff sleeves are not a thing of the past. And if you think they are, well then they are back! Puff sleeves look great with pastels and light colours. They also make you look younger! (psst, psst!)
Pleated Bell Sleeves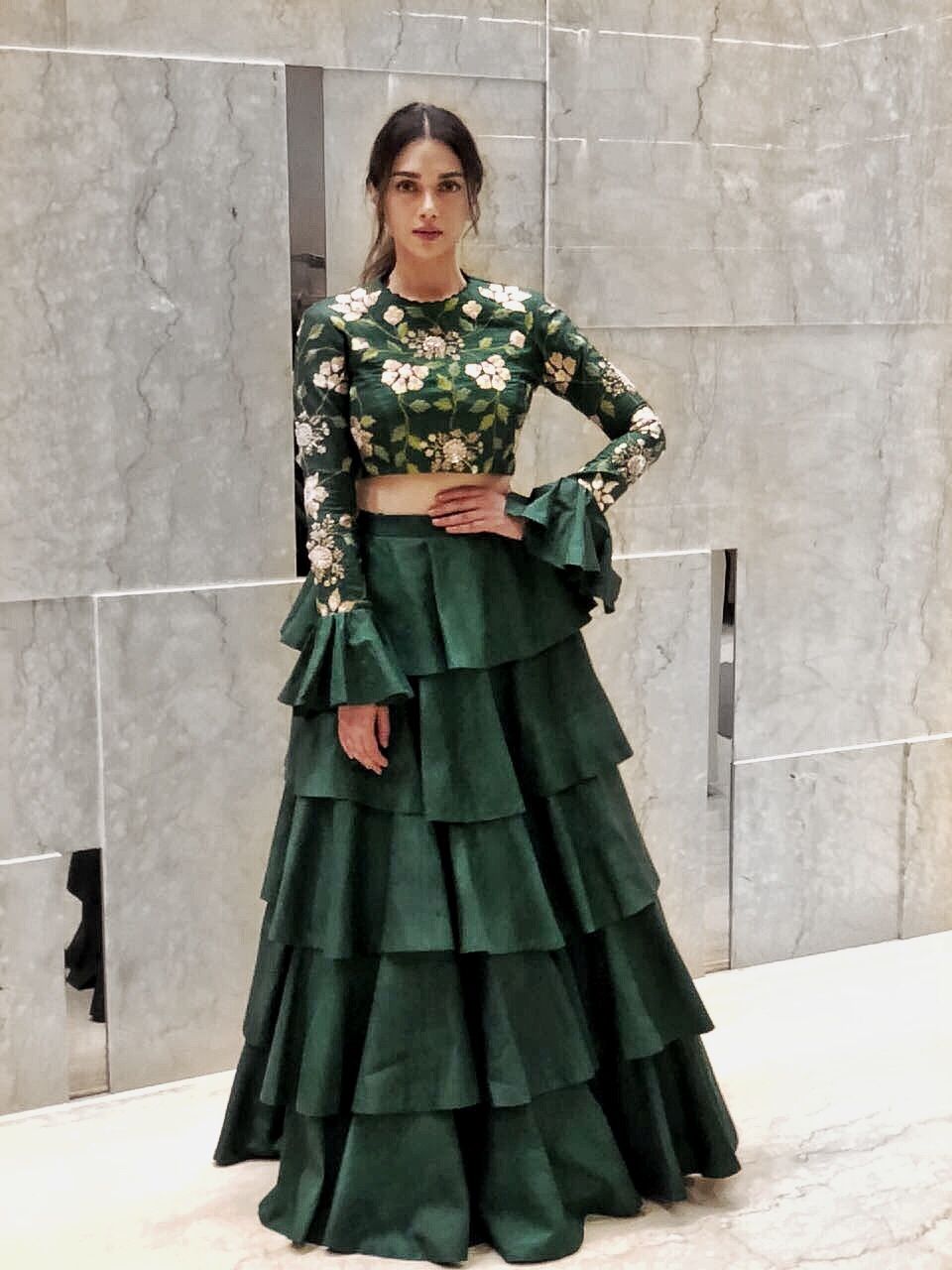 Image via Divya Reddy★ 3.5
Bell sleeves look ravishing and if they are pleated, they give the elegance the extra volume! Opt for a Full sleeved blouse with pleated bells over the wrists for a perfect poised look.
Cape Bell Sleeves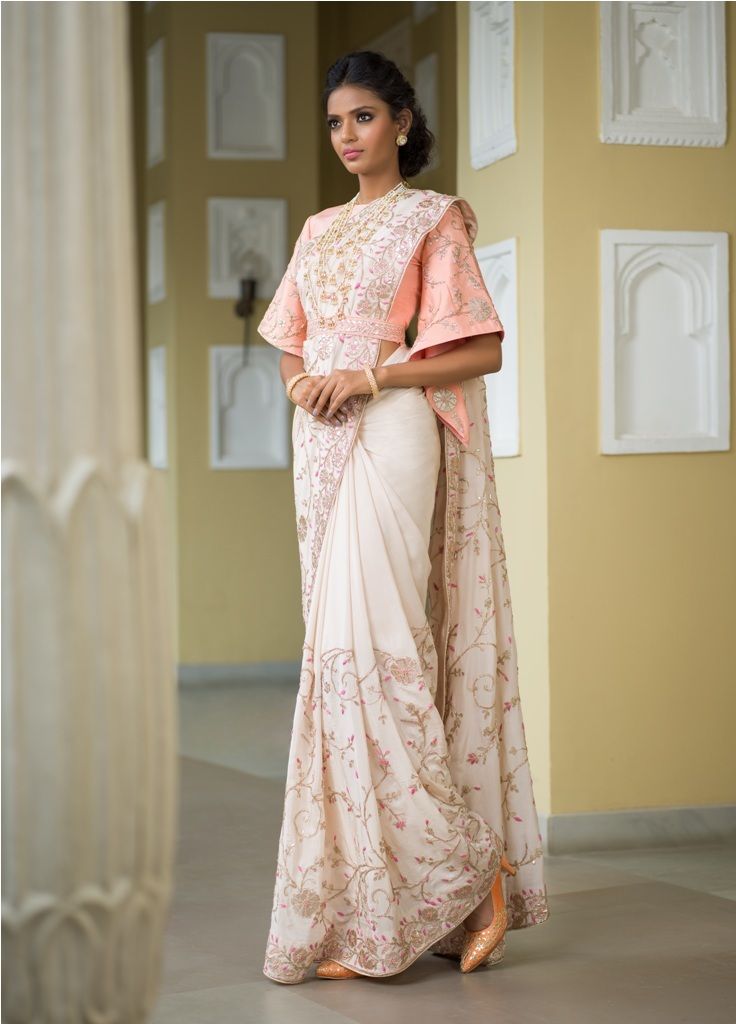 Image via Vasansi★ 4.7
This style was really quirky to us! Looks like bell sleeves when this is actually a cape style. This look is perfect for a reception party and best if carried with a saree.
Peplum Hem with full sleeves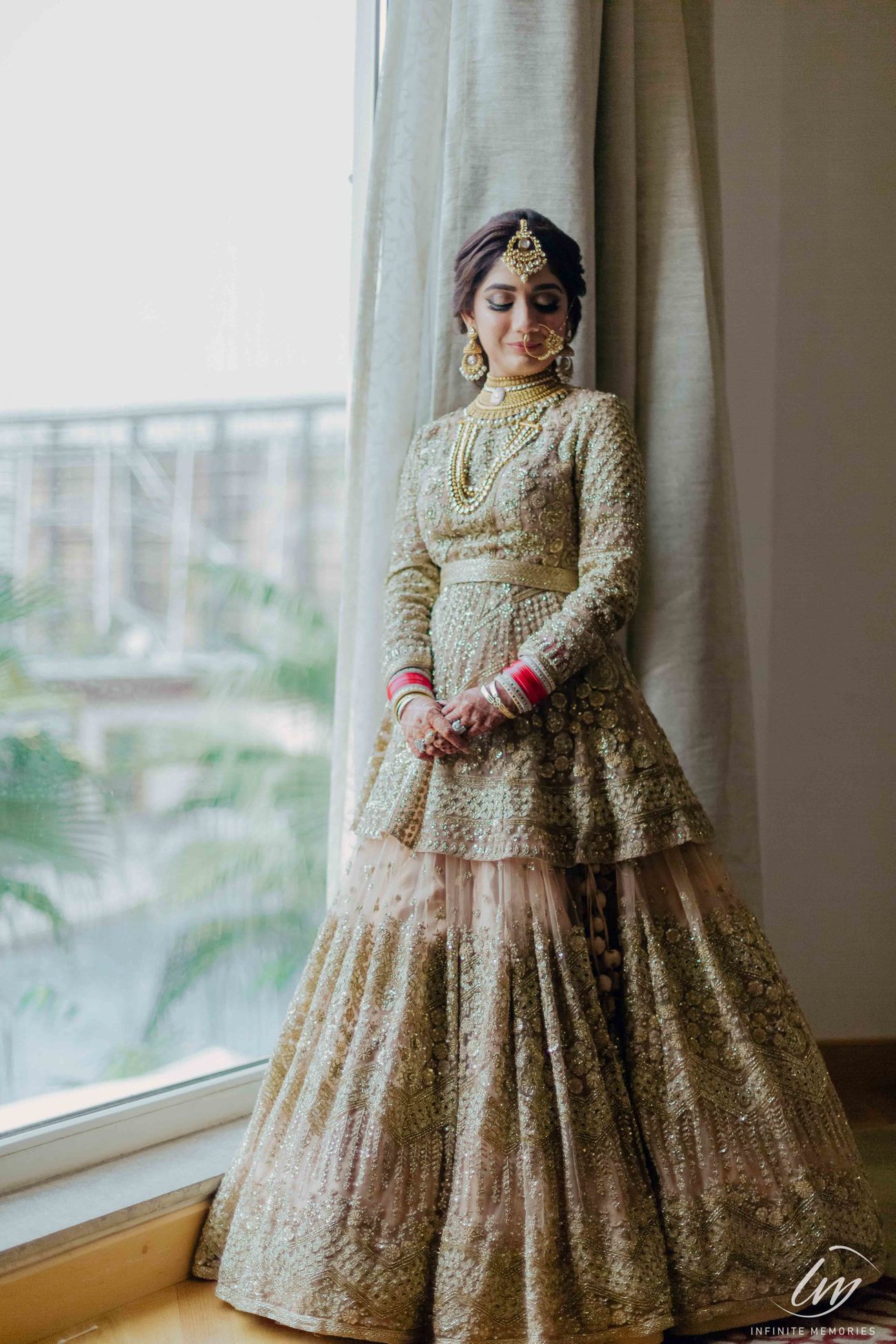 Image via Infinite Memories★ 4.8
How fresh and different this look this! The peplum hem of the blouse was what caught our attention and we are so glad it did! The full embroidered sleeves are beautifying the look.
Different colored sleeves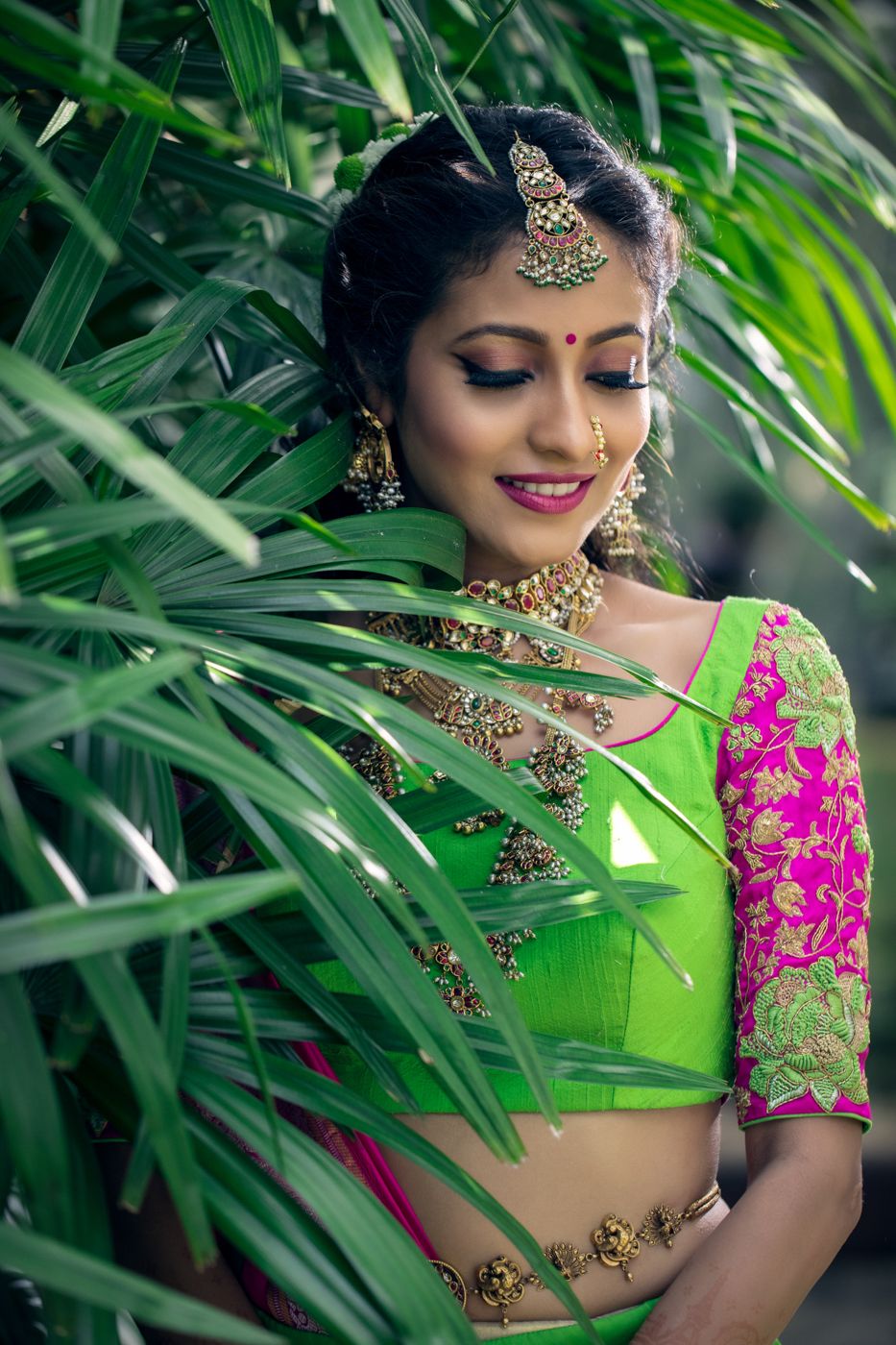 Image via LightBucket Productions★ 4.9
Another way is using a different colored sleeve with the blouse. Embroidery, mirror or kundan work would be an add on beauty. Choose contrasting colors.
Mesh Bells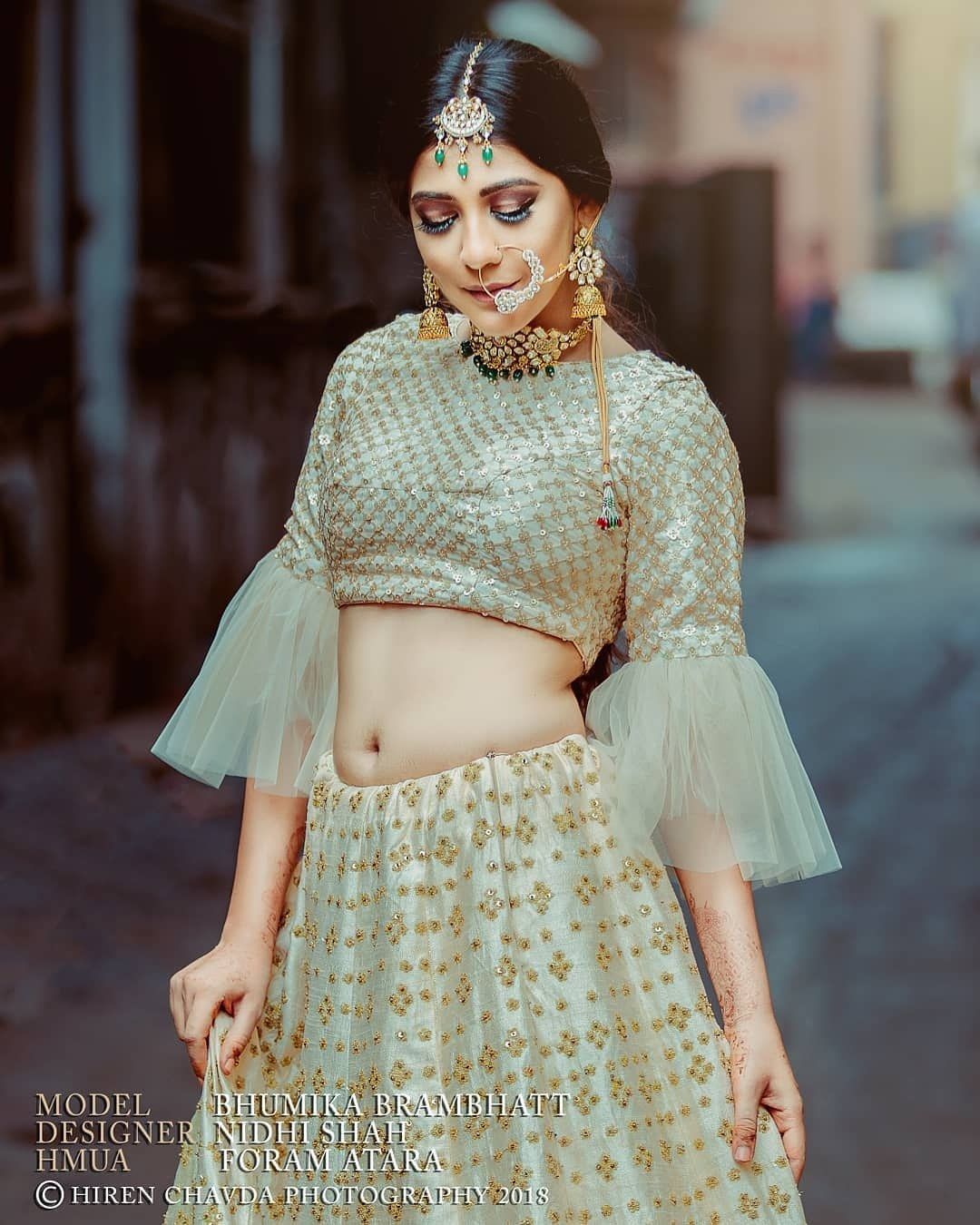 Image via Foram Atara★ 4.7
Instead of bell sleeves of normal fabric, you can get it replaced with net fabric for an edgy look.
Fall down sleeves
 Image via Yoshita Couture
Now there are two ways to wear this. Either simple fall down without straps or thick straps along with layered fall down sleeves.
Cold Shoulder Sleeves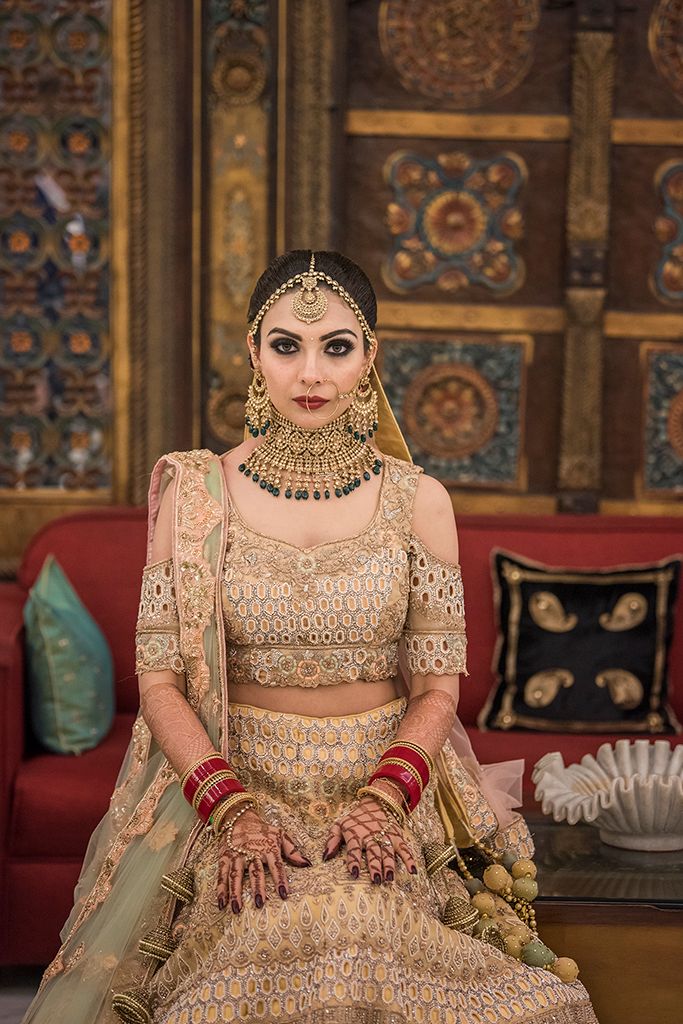 Image via Shweta Poddar Weddings★ 4.7
Cold shoulders are really popular in western outfits and they are quite a hit in Indian and traditional attires too! Opt for a cold shoulder foe a known, yet fresh look.
Tassel Jewels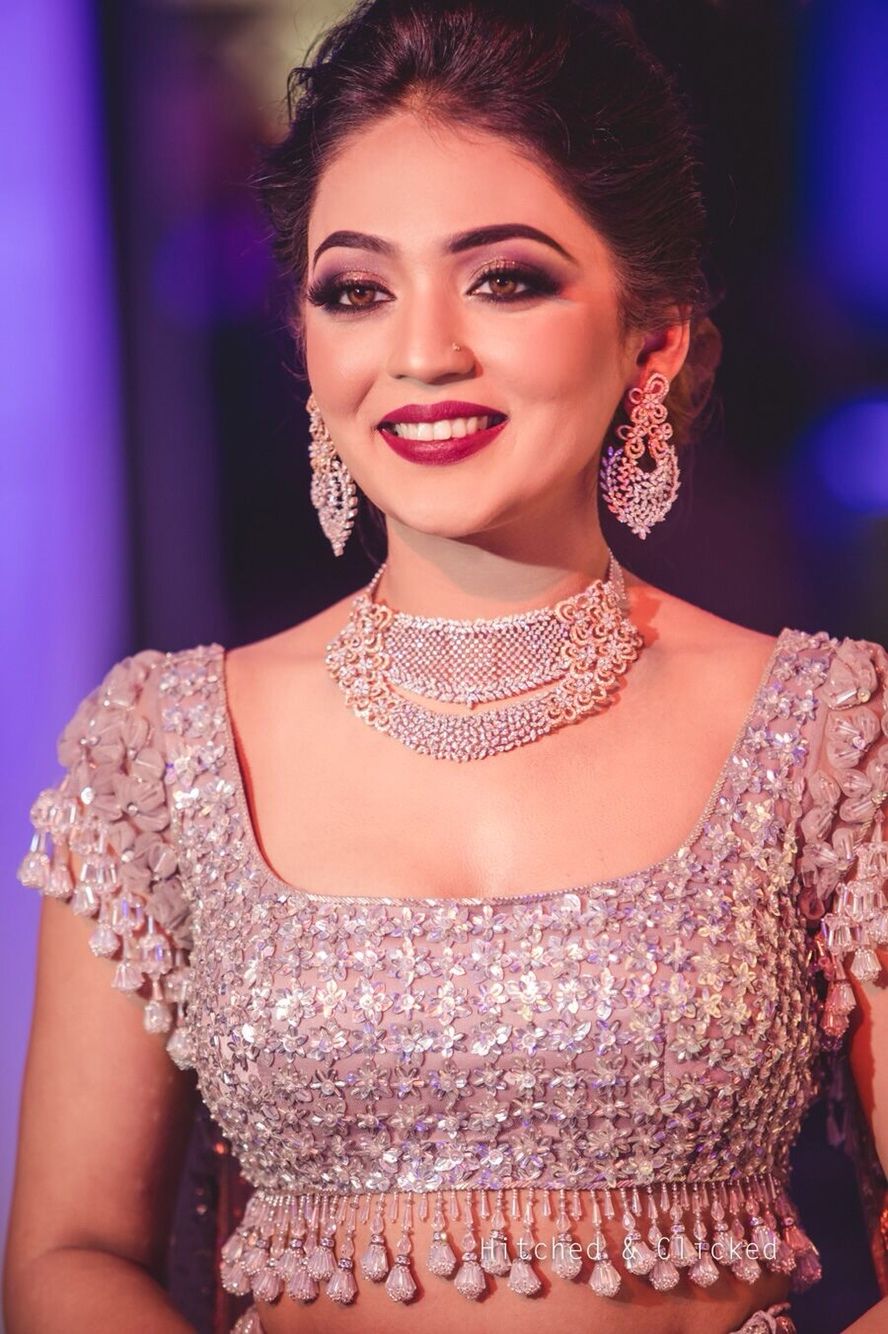 Image via Shahid's Makeover★ 4.1