Gold Bridal Jewellery Designs
As the wedding season arrives, women go gaga deciding on the bridal jewellery designs best suited to their royal wedding ensemble. Being an Indian, it cannot be stressed enough how precious gold jewellery is to a bride or anyone in the family, for the matter. To up your glam game and to steal the breath away of anyone who sets the eye on your bridal jewelry in gold, we have come up with 10 gold bridal jewellery designs that are beyond beautiful.
What say? Let's make your day every bit grand, shall we?
1.Minimal gold jewellery sets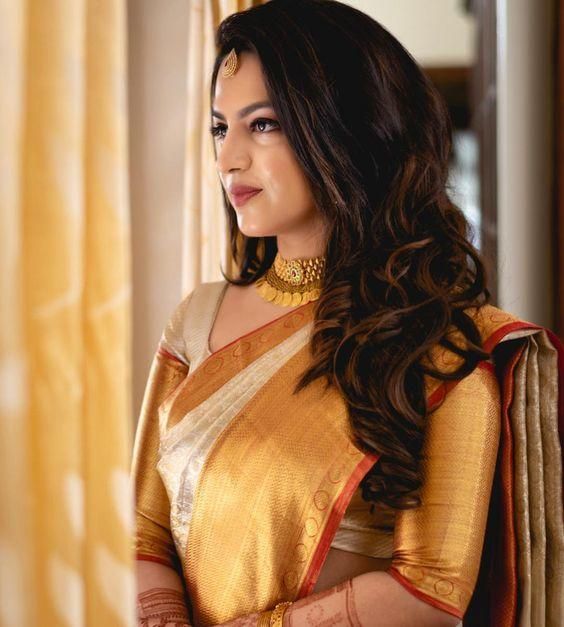 Image via
Well, if you're a bride who believes in minimalism, then a minimal gold necklace is just what you should be going for. This kind of
gold bridal jewellery
goes perfectly for after wedding parties. The uniqueness and the super light weight make this one an elegant pick. Planning on making a statement? A minimal gold necklace will add all the glamour with a tinge of sophistication that you've been looking out for. 
We spotted quite a few brides flaunting their intricately designed minimal necklaces glowing with the flare of the stones enhancing their beauty.
2. Gold Matte Jewellery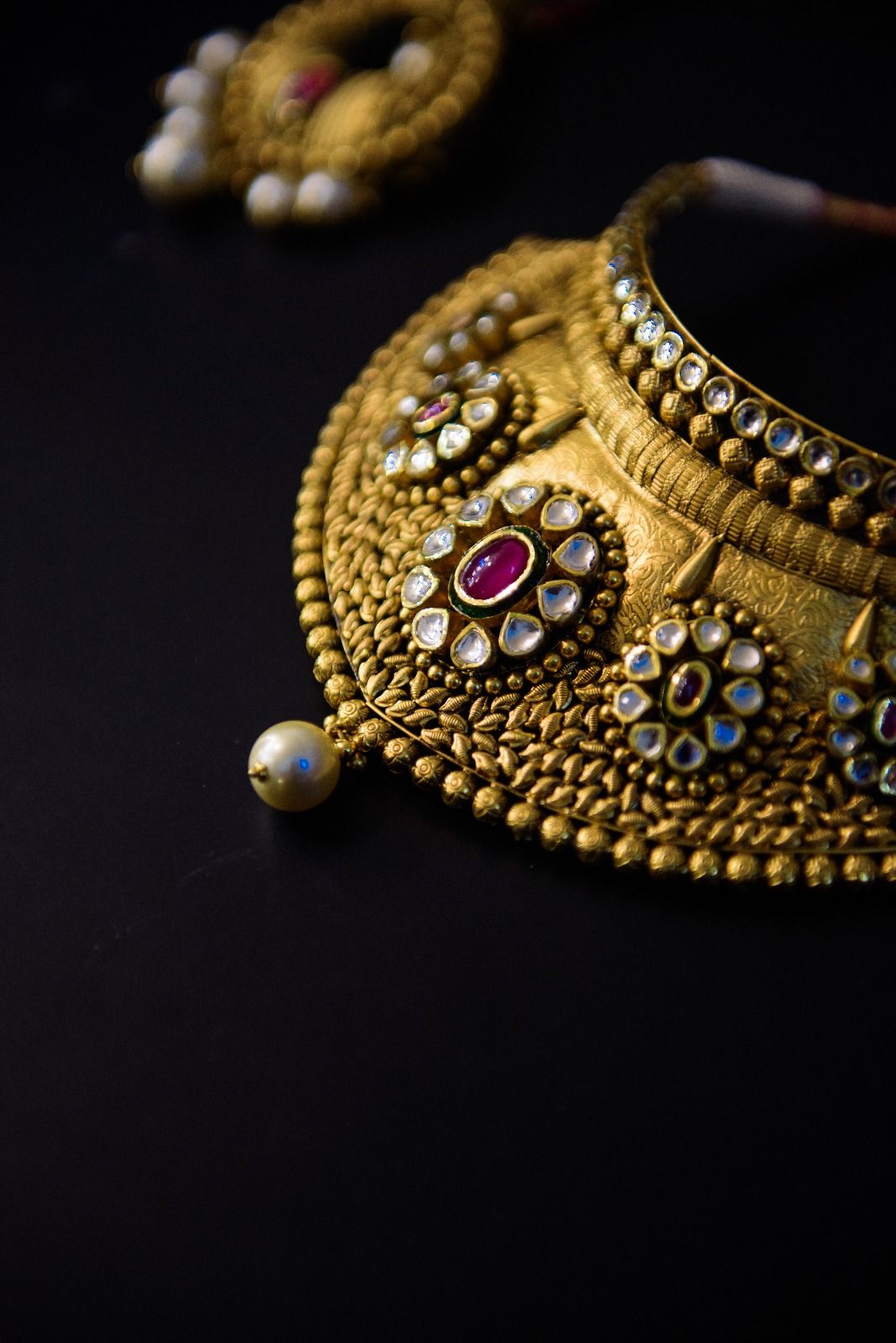 Image via
Paran Singh Photography
★ 5
Fancy so
me class with glam? Gold jewellery in matte is all the rage. If you're not a big fan of glittering yellow gold jewelry, this one will up your game like nothing else. With a subtle matte finish, this is one of the most elegant
bridal jewellery designs in gold
. What we loved the most about it is the drama it adds to your entire bridal outfit with its perfect glazed finish. Also, a good gold matte jewellery works it charm the best when paired with a minimal wedding outfit. Maybe, try it out for yourself?
3. Choker Necklace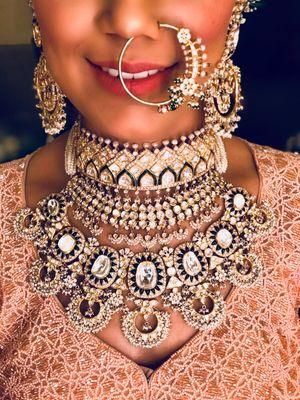 Image via
Alright, so you must have crushed on those gorgeous chokers that Deepika Padukone, Anushka Sharma, and other celebrities totally rocked at their weddings. You'd be lying if you denied that. Choker necklace is, undoubtedly, the
best gold jewelry for brides
. Pair it up with some heavy earrings and you'll steal the show. Best suited to brighten up the entire bridal ensemble, a blog/12-statement-bridal-chokers-that-we-spotted-recently/">choker necklace is a statement maker on its own. What made us fall head over heels in love with it is the sense of grandiosity and royalty that it oozes out.
4. Rajputana Gold Bridal Jewellery Set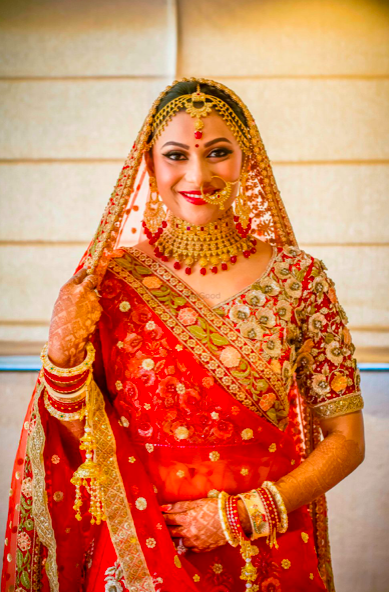 Image via

Pictures Que Creations
Rajputana gold necklace makes up for a breathtakingly
beautiful gold bridal jewellery.
With its statement style that reeks of royalty and age-old heritage, this Rajput-style necklace is one of a kind. We fell in love with it instantly because this one just stands out and makes you want to own it. Soaking in the cultural hues and narrating a story with each piece of jewelry, Rajputana gold jewellery is a stellar bridal jewellery design. Pair it with a traditional bridal ensemble and watch all the heads turning. 
5. Pendant Necklace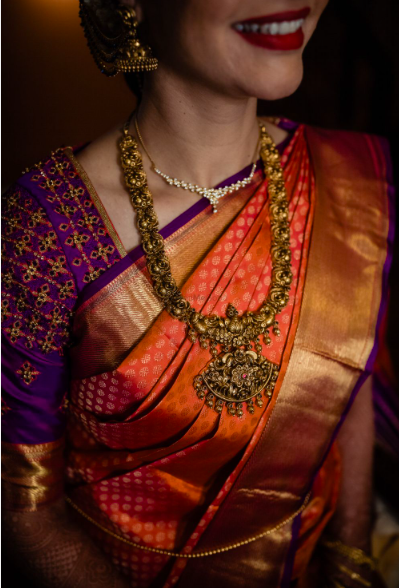 Well, a
ren't you the one to take it up a notch? Pendant necklace is an incredibly beautiful way to let your bridal ensemble come out embossing the entire look. The mere simplicity and elegance of a tiny pendant is what makes us smitten by it. If you're planning to wear a silk saree or even a very heavily embellished lehenga, for that matter, a pendant necklace will up your beauty game by leaps and bounds. Pair it up with some chunky earrings and let yourself look like the queen you are. After all, royalty and gold have been the best of friends since forever. 
6. Gold Jewellery – Layering all the way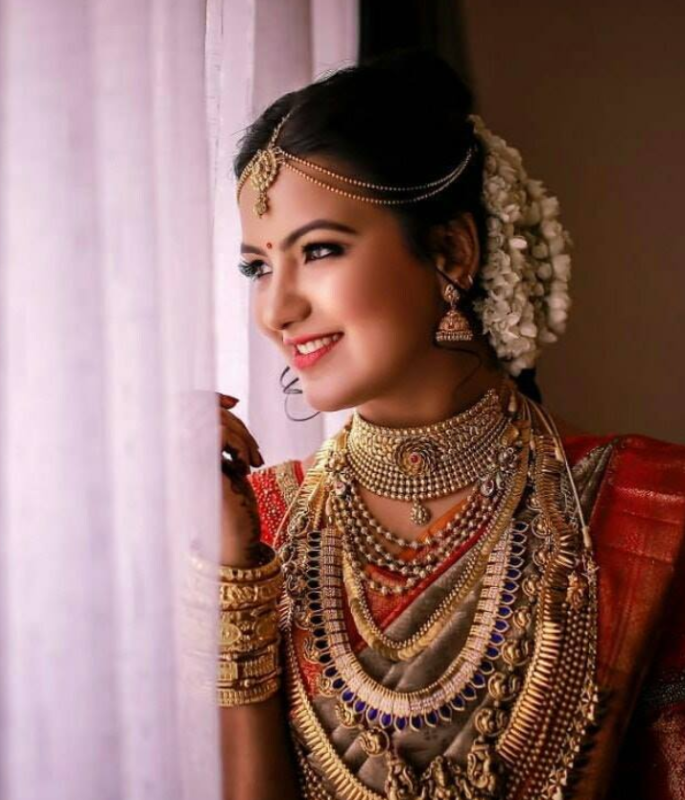 Image via
Vikas Makeu
p
Artist
Alright, we get it, you're so into experimentation. Layering multiple gold bridal jewellery designs gives your entire wedding ensemble a glam look. We are totally in love with how you can experiment and play with matte and shiny gold altogether without even overdoing it. A bride decked up with jewellery complimenting her wedding lehenga is a sight to behold and even better with a new look that almost gives her a royal look.
You know the drill, right? Steer clear from overdoing it and you're good to go.
Well not just gold jewellery, you can easilylayer-your-bridal-necklaces-to-perfection-brides-who-got-it-just-right/"> layer up bridal necklaces for your wedding.
7. Spiked necklace paired with a studded necklace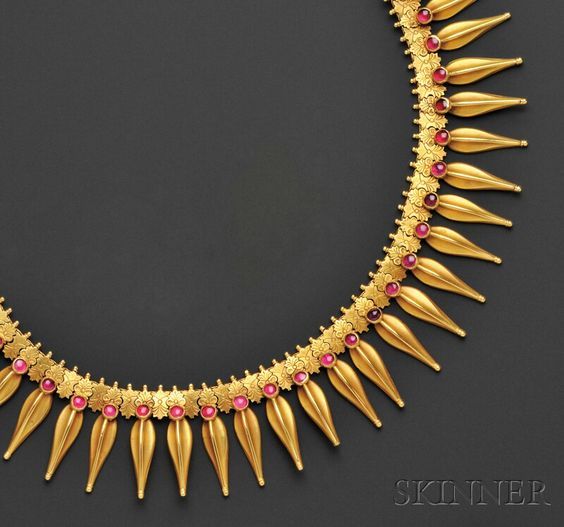 Image via
Imagine the power of pairing contemporary with tradition.
We cannot express how blown we are by the beautiful gold bridal jewellery that is adorned with spikes and gives the bridal look a tinge of contemporary vibe. Let's take this up a notch, shall we? Pair this spiked enigma with a sapphire or emerald studded neck piece and it just cannot get any better
Furthermore, coupled with a minimal make up and a silk saree, and you'll have earned extra points! 
8. Choker with a Temple Haar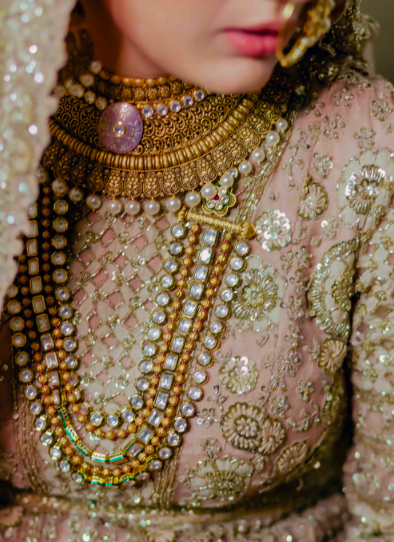 Image via

Infinite Memories

★ 4.8
How about a royal blend of modern and traditional? Compliment your Traditional temple haar with a spike of modernity. A gold matte or a shiny yellow gold choker paired with a long and authentic temple Haar makes up for an eye-pleasing twist. This fashion experiment takes our breath away every time a bride rocks it with her grand wedding ensemble. With all the royal feels, this
beautiful gold bridal jewellery
steals the show an takes the entire wedding look up a notch. The rich golden hue adorning the bosom of the bride will be nothing short of a blinding beauty. 
9. Tribal inspired gold necklace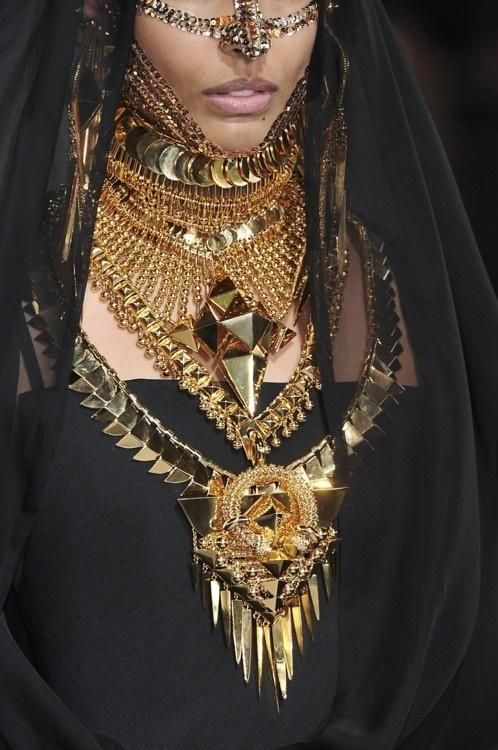 Image via
In a dilemma about what to wear for your fancy wedding party? How about donning a rich and bold silk saree with a quirky tribal inspired gold necklace? The authentic look of this bridal jewellery is what sets it apart and makes it all the more fun. Furthermore, These kind of
gold bridal jewellery designs
are quirky and reflect one's roots at the same time. What say? Dare to be different?
10. Layered coin choker necklace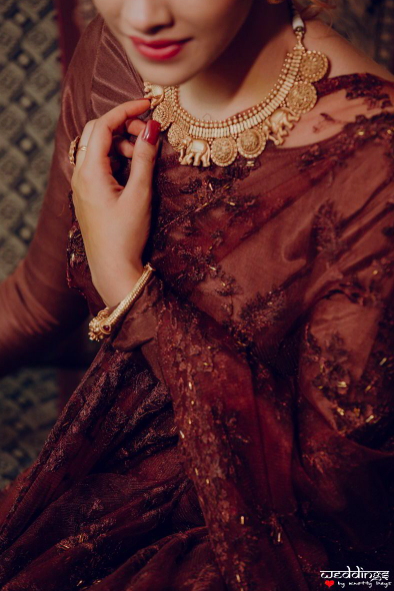 Image via amil-pragya-malaysia-wedding-1189″>Pragya and Amil
Well, we've all fallen in love with coin jewellery at least once in our lifetime. There is something really glam about these metal coins working up their magic. Layered to make a quirky choker necklace, the beauty quotient just gets to the next level. Coupled with Kundan and intricate engraved, these gold choker necklaces interest us even more. With all the antique matte finish, a layered coin choker necklace magnifies the bridal beauty that everyone talks about.
There's no other better jewellery than a wide smile, though. How about adorning it with the eye-blinding beauty of gold?  After all, your D-day is the most important day of your life. Looking nothing less than magic with these gold bridal jewellery designs is a must, now isn't it?