Beautiful memories and emotions are two vital aspects of life. The wedding comes with lots of love and responsibility. So, before taking your relationship to the next level you should capture all those special moments that you spend together. The pre-wedding photo shoot gives you the opportunity to spend some more time with each other before your wedding. Couples get the chance to know each other even more. It is an extraordinary style to capture your marvellous chemistry in prints. So, if you want a romantic and majestic pre-wedding photo shoot, check out these top 6 places in India where you can get your Pre Wedding shoot done.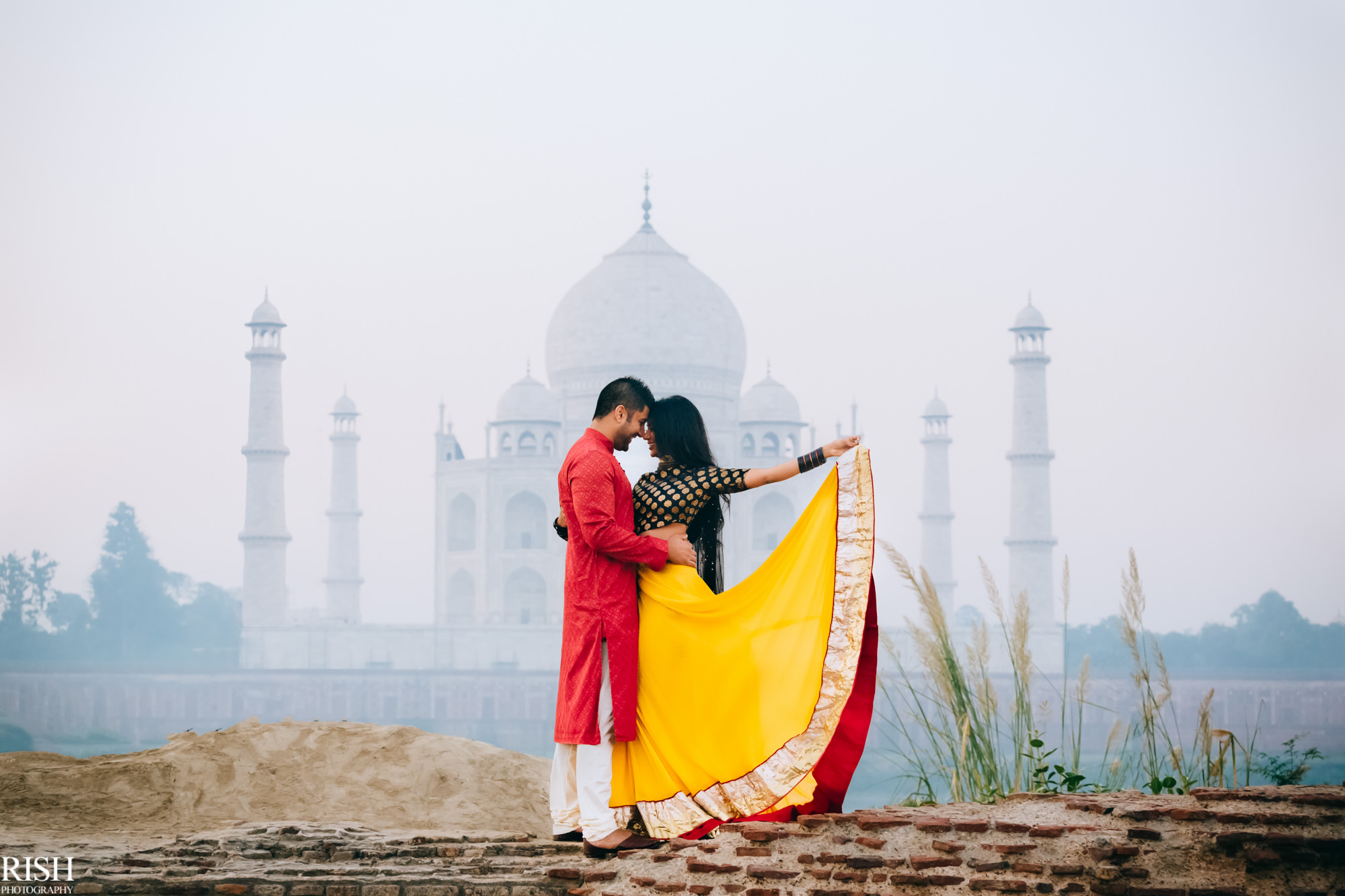 The Taj Mahal, 7th Wonder of the World
The Taj Mahal is the most well-known and prominent symbol of love in India. So what can be better than posing in front of this magnificent monument? This place is for all those couples who believe that their love and bonding will last forever. The incredible architecture of this white monument with the stunning background will make you fall in love with each other once again. If you want to capture the majestic beauty of this place in your frame, you should schedule your pre-wedding photo shoot on a full moon night. It'll take the charm and the beauty of your photo shoot to the next level.
Udaipur Udaivilas, a Royal photo shoot destination
Do you want to capture a regal look at the time of your pre-wedding photo shoot? In that case, what can be a better destination than Udaipur Udaivilas? This one is known to be one of the best hotels in Udaipur owned by Oberoi group. It is also recognised to be one of the most targeted destinations for a romantic pre-wedding photoshoot. If you can visit this place once, you'll encounter an artistic beauty in every piece of the wall. It'll give you a royal feeling. That is why it is considered to be a dream destination for any couple. This place will reflect your appearance and personality in each photo.
Mussoorie, a Romantic hill station
Mussoorie's JW Marriott property adds an innocent charm to their street. If you people are best friends as well and looking for a fun pre-wedding photoshoot, Mussoorie should be your ultimate destination. The beautiful weather of this hill station is ideal for a romantic photo shoot. Walk through the narrow pathways holding each other's hand. Pose in front of the beautiful lush greens, and this event will inevitably turn into one of your favourite memories that you'll cherish forever.
Bhawan Palace, enjoy the serenity
If you want to visit a place that is full of color and calmness, go for Bhawan Palace in Rajasthan. It's a royal pre-wedding photo shoot destination, but it's not costly as Udaivilas. Previously it was a beautiful palace which was converted into a hotel so that people could fulfil their dream of a royal wedding. Jodhpur is recognised as the blue city, and nothing can be a better pre-wedding photo shoot destination than this fantastic place. Instead of choosing royal attire you can add an English touch to your look. You'll surely look amazing together.
Kumarakom Lake Resort, the mystic beauty
The mysticism of this place is unparalleled. The classic charm of the backwaters cannot be described in a word. If you visit this place, you'll feel the magic. Pose with your love near the lush green or the snake boats. The photographer will capture the romance between two loving hearts in the background the deep backwaters. Isn't it great? It's like a dream comes true.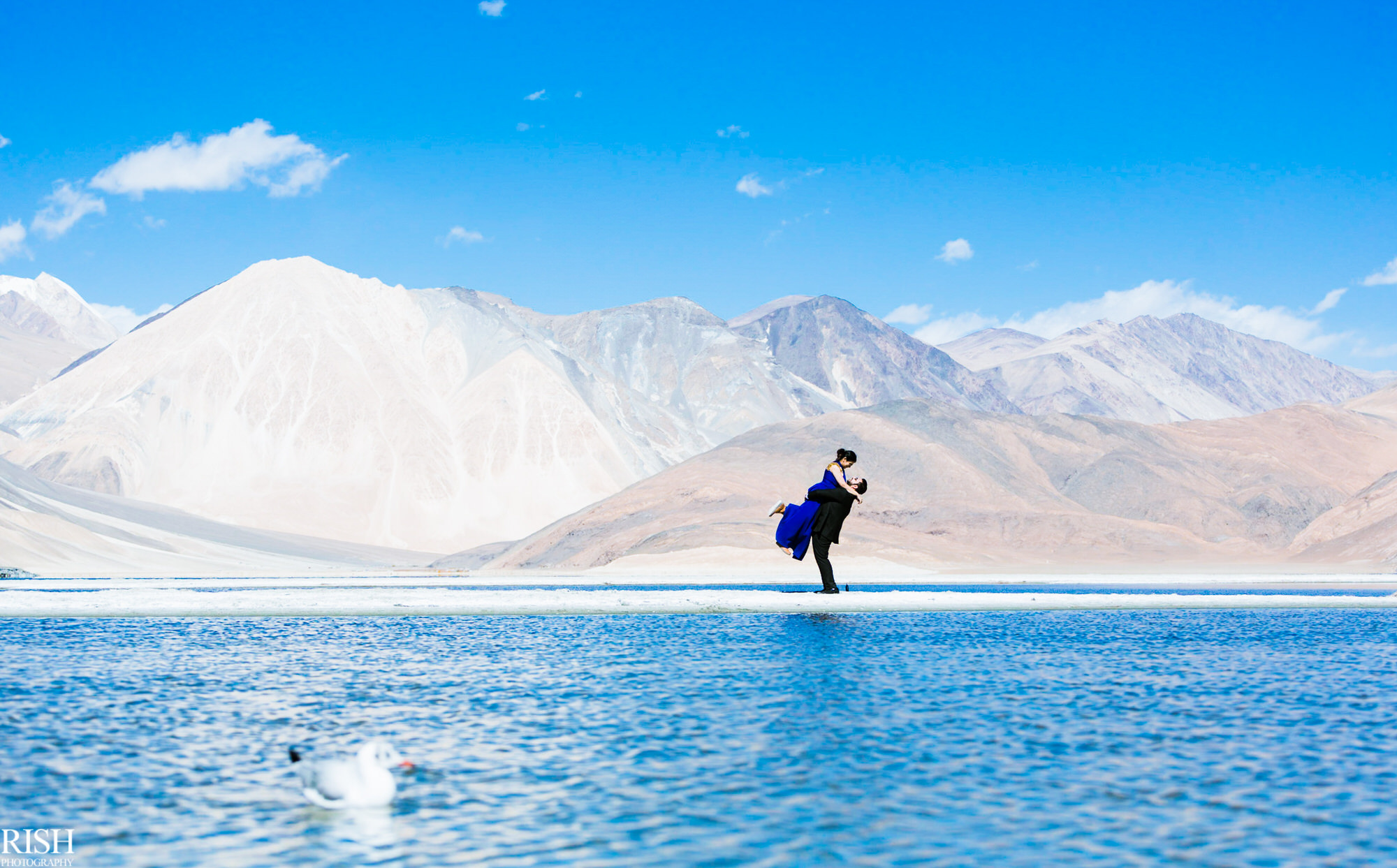 Leh-Ladakh, an adventurous photo shoot destination
If you are an adventure enthusiast, then you have to choose Leh-Ladakh as your pre-wedding photo shoot destination. The dramatic beauty of the mountain gives you a heavenly experience. The enchanting aura of this absolute beauty takes its true form in the month of April when the temperature drops down to below 10 degrees. It ultimately turns to the paradise of earth. The adventure lover adorable couples can enjoy a trekking tour too. So kick off your wedding celebrations by traveling to chilly Ladakh. Don't miss the opportunity to rejoice the beauty of this place with your love.
These places will surely live up to your reputation and ideal for those couples who want to capture romantic memories on their pre-wedding photo shoot.